Archived
Southern Virginia Presents All New Musical: 'Little Women'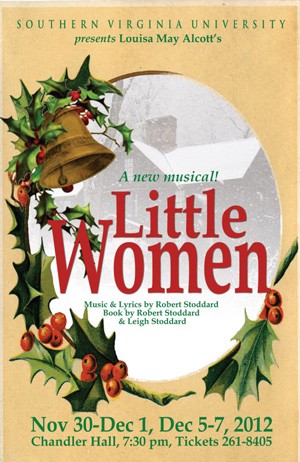 Southern Virginia University Professor Robert Stoddard wrote the score and co-wrote the script for a new musical adaptation of "Little Women," which will take the stage on Friday and Saturday, Nov. 30 and Dec. 1, and the following Wednesday, Thursday and Friday, Dec. 5–7, at 7:30 p.m. in Chandler Hall.
Stoddard said that he decided to write his own adaptation of the classic novel by Louisa May Alcott at the suggestion of his daughter Leigh — who co-wrote the musical's script — and because he felt that he "had something to say that would be different from some of the other versions."
"It's been a really wonderful creative process; maybe the most satisfying writing assignment I've ever had," said Stoddard. "Having it come to life is exciting. The most important thing is that people will see 'Little Women' and maybe be touched by the same values that were part of the reason that we wrote it. It's a wonderful Christmas show: it will engender within everybody the spirit of Christmas, of love, and of family values."
Stoddard is directing the show, with Dr. La Rae Carter serving as musical director and Dr. Clayne Robison serving as vocal coach.
The cast features 14 Southern Virginia student actors, an alumnus, and a community member. Cameron Stoddard (no relation to Professor Stoddard), a music major from Buena Vista, Va., who will play the role of Meg — the oldest of the four March sisters — said that she enjoys the rehearsal process because it "allows for a lot of creativity on the part of the actor and director."
"I've found the music to be very powerful and emotional," she said. "I hope that the audience will feel the meaning and moral of the story. It's been really cool to see the growth that these characters go through in the story. It's very true to life."
Tickets for "Little Women" are $8 for the general public, and $6 for senior citizens and Southern Virginia students, faculty and staff. They can be purchased in advance by calling 540–261–8405 or at the door prior to the performance.