Archived
Southern Virginia Presents '110 in the Shade' May 25 – June 2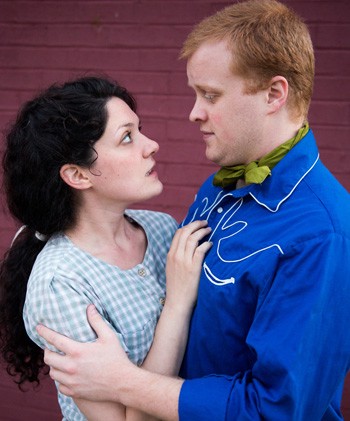 The Southern Virginia University Theatre Program will present Tom Jones and Harvey Schmidt's, "110 in the Shade," Friday and Saturday, May 25 and 26, and the following weekend, May 31 to June 2, at 7:30 p.m. in Southern Virginia's Chandler Hall.
Amaree Cluff ('08) and Nate Pence ('12) will play the leading roles in the musical, supported by a cast of actors from the student body and the local community. Cluff is currently pursuing a Master of Fine Arts in acting from the University of Virginia.
"It's wonderful to be in a show with such a beautiful, simple message that goes straight to people's hearts," said Cluff. "Most plays are about people who need each other but aren't able to connect despite their best intentions. But in this musical, the characters are able to connect with each other despite their imperfections. I think that's a rare message."
"110 in the Shade" is a musical adaptation of N. Richard Nash's award-winning play, "The Rainmaker," which also was made into a film starring Katharine Hepburn and Burt Lancaster. The story follows Lizzie Curry, a young woman living in a drought-stricken town in Texas in the 1930s. She is quick-witted and intelligent, but fears that she is becoming an old maid. Lizzie's fears and insecurities worsen when she is rejected by File, the local sheriff. However, her course changes when she encounters Bill Starbuck, a traveler who arrives with the promise that he can provide the needed rain — for a price.
Jones and Schmidt — the award-winning creators of the world's longest-running musical, "The Fantasticks" — were nominated for a Tony award for their composition of the score for "110 in the Shade." The original production of "110 in the Shade" was nominated for four Tony awards, and subsequent revivals also have been nominated for Tony awards. In an opening night review of the show, "Variety" called it "an entertaining, very touching and undeniably moving show."
"Through the years, I've seen many productions of '110 in the Shade' and it never fails to touch me deeply," said Robert Stoddard, associate professor of theatre at Southern Virginia and the show's director. "The story is captivating, and the music is absolutely beautiful. I think Rockbridge audiences will love this show as much as I already do."
Tickets for "110 in the Shade" are $8 for the general public and $6 for senior citizens and Southern Virginia students, faculty and staff. Tickets can be purchased in advance by calling 540–261–8405, or at the door prior to each performance.