Archived
Southern Virginia Holiday Events 2012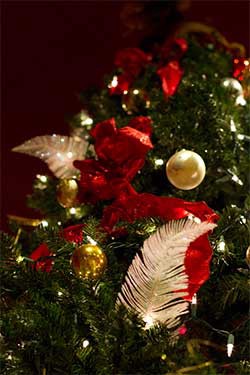 From traditional Christmas concerts to an all-new musical, Southern Virginia University will host several holiday events this year.
All members of the community, along with Southern Virginia students, faculty and staff, are invited to celebrate together through music and theatre. Unless otherwise noted, all events are free.
A New Musical: "Little Women"
The Southern Virginia University Theatre Program will present "Little Women," a new musical with an original score by Robert Stoddard, associate professor of theatre at Southern Virginia, and book by Robert Stoddard and Leigh Stoddard.
The story — based on the well-known novel by Louisa May Alcott — begins with four sisters celebrating Christmas, and follows them as they learn and grow from the experiences of their lives.
Dec. 5–7, 7:30 p.m., Performing Arts Center.

General Admission: $8. Seniors: $6. Tickets may be purchased in advance at: 540–261–8405.
Southern Virginia University Community Christmas Open House
The Southern Virginia Women's Society will host a Christmas open house for the community following the Buena Vista Christmas parade. The evening will include a visit with Santa Claus as well as holiday treats.
Thursday, Dec. 6, following the 7:00 p.m. Buena Vista Christmas parade, Ballroom.
Southern Virginia Orchestra Christmas Concert
Led by Professor Mark Taylor, the Southern Virginia University Orchestra will present a concert of music including Christmas favorites, such as "Sleigh Ride" and selections from "The Nutcracker," as well as classical pieces. The evening will feature a special solo performance by Tyler MacKay — a senior who has served as the orchestra's concert master for several semesters — of a movement from one of Saint-Saëns' violin concertos.
The orchestra also will perform "Hava Nagila," a Jewish traditional folk song often performed for Hanukkah celebrations, and an orchestral arrangement of "Russian Christmas Music."
Saturday, Dec. 8, 7:00 p.m., Performing Arts Center.
Combined Choirs Concert: Sounds of Christmas
Three Southern Virginia University choirs — the Concert Chorale, Bella Voce and the Flute Choir — will perform a variety of music from traditional carols to 20th century Christmas songs. Selections will include "Mary's Lullaby," an arrangement of "Wassail," "Parade of the Wooden Soldiers" and "Peace Nowell," a new arrangement of a classical English carol by Mark Milberger, adjunct professor of music at Southern Virginia.
Dr. La Rae Carter and Professor Launa Whitehead, as well as several choral conducting interns, will direct the choirs.
Thursday, Dec. 13, 7:30 p.m., Performing Arts Center.