Archived
Southern Sem History on Display in Fawson Alumni House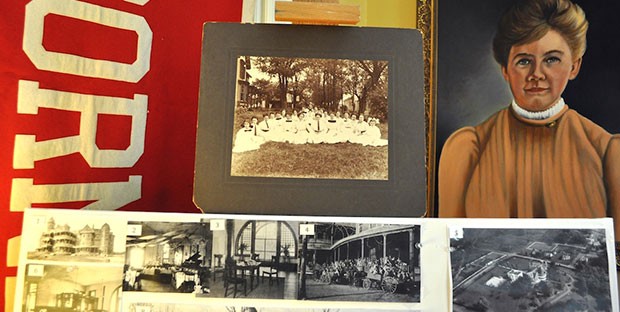 An exhibit featuring Southern Seminary history titled, "All That Linger Here: A Pictorial History of the Campus," is on display in the Fawson Alumni House at Southern Virginia University until Sept. 15.
"The exhibit explores the history of the campus through prominent individuals and the buildings named after them," said Christopher Richardson, director of library services at Southern Virginia who oversaw the exhibit's production. "The phrase, 'all that linger here' is taken from the mantle over the fireplace in Main Hall."
The display provides insight into the university's legacy dating back to its founding in 1867. Though it has undergone many transitions and name changes over the years, for much of its history, the school was known as Southern Seminary and offered high school and college courses for women. Eventually, it became a coeducational institution named Southern Virginia College.
In 1996, when the college was on the verge of closing its doors after it lost regional accreditation, a group of Latter-day Saints assumed responsibility of its assets and liabilities and renewed it as a four-year liberal arts institution. Since then, the name has been changed to Southern Virginia University and the student body has grown to more than 800 students.
Sarah Crowley ('12), who majored in history at Southern Virginia, worked on the exhibit as part of an archival internship. She said that she decided to serve as an archival intern because she wanted to do something extra to help out the library her senior year and because she had a "passion for history and genealogy," the archives "seemed like a natural place to start."
During the course of the internship, Crowley organized archival materials, read about the university's background and gathered pictures to put together a display that "told a story." She also collaborated with Richardson and other staff members including John Feinauer, alumni relations coordinator at Southern Virginia
"By the end, I'd come to feel for the people behind the school and the buildings as if it were my own family history," said Crowley. "Before I began this project, Southern Sem felt like a completely different school from Southern Virginia. I can see now that it is much the same."
Crowley said that she gained an appreciation of how the legacy of becoming leader-servants extended back through the time of Southern Seminary. For example, she said that in her research, she discovered that Southern Seminary prepared one of the first female doctors to serve in World War II.
Megan Ondricek ('09), a library assistant at Southern Virginia who helped put the exhibit on display, said that she thinks preserving and displaying the university's history is important in many ways.
"This exhibit sends an important message to [Southern Virginia students and employees] that this is part of who we are and it helps them understand our legacy," said Ondricek. "I also think it makes a really essential bridge to the community. We care about who we used to be and we're interested in preserving our legacy. We want community members to be a part of this as well."
In addition to this display, Richardson said that the university's alumni association, in conjunction with the Von Canon Library and local historical groups, plans to produce two similar exhibits each year. Additionally, they plan to create a permanent display of historical photographs — focused on alumni — in the library's main entryway.
"It is my hope that this exhibit will be the start of the time absorbing process of preserving the history of our school and uniting the campus past with the campus present," said Crowley. "I want our students to know the stories of the buildings and our [alumni] to be able to come back and see where they fit and how they contributed to the organization that is here today."