Archived
Service Forum Oct. 26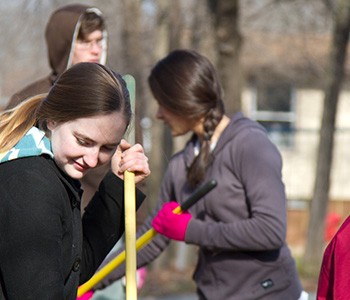 Two Southern Virginia University students, an alumnus, and the director of economic development for Buena Vista will give addresses at the service forum on Friday, Oct. 26, at 11 a.m. in the Stoddard Center.
Chris Teerlink ('12) will speak about the Leader-Servant Graduation Distinction, which he completed in 2011. He also will share his own experience with giving service on campus and in the community, and speak about his involvement with Southern Virginia service activities. Teerlink was a member of the Southern Virginia soccer team and served as student association president from 2010 to 2011.
Jason Call — a senior from Preston, Idaho, who is a biology major on the pre-med track — will speak about his service with Remote Area Medical, an organization that provides free health care, dental care and vision care to people in remote areas of the United States and the world. Call currently serves as president of the Buena Vista Institute of Religion Institute Council.
Brian Brown, director of economic development for the city of Buena Vista, will address the effect that service given by Southern Virginia students, faculty, and staff has had on the community. Brown received a bachelor's degree in political science from Longwood University and a bachelor's degree in social science from Liberty University. He previously has worked as a business development representative for HSMM and as economic development administrator for the City of Roanoke.
Justin Winslow, vice president of academics and service on the Student Executive Council, will discuss ways to get involved in service opportunities both on campus and in the community, and will introduce new service campaigns.
Community members and Southern Virginia faculty, staff and students are invited to hear forum and devotional speakers each Friday morning at 11 a.m. in the Stoddard Center. Recordings of past forum and devotional speeches may be accessed online.