Archived
Rain at Graduation Doesn't Deter Class of 2012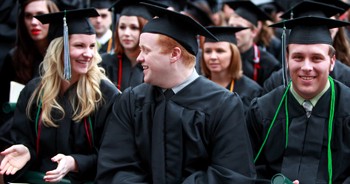 Nearly 1,000 people gathered Saturday on the campus of Southern Virginia University to commemorate the academic achievements of 124 graduating seniors at the university's 144th commencement exercises.
Skies were clear as the ceremony began in front of historic Main Hall, but the rain clouds that blew in and drizzled on the graduates and their supporters did not deter those donning graduation robes and caps from ascending the steps to receive their diplomas.
Commencement speaker David C. Clark is chief operating officer of Synergy Companies and advisor to a private foundation that helps Latin American adults obtain technical certification to enter the workforce. Clark also is a member of Southern Virginia's National Advisory Council.
Clark, who has been running companies for more than 25 years, encouraged the graduates to focus their lives on the things that matter most. He quoted David O. McKay, who was president of The Church of Jesus Christ of Latter-day Saints from 1951 until his death in 1970.
President McKay taught that people are accountable to God for how they treat their spouse and children, how they develop their talents, whether they make an honest living, and how well they serve in the church and their communities.
"[I] invite you to take time personally and just get away for a few moments and ask the Lord what he sees happening in the areas that matter most with your family, with your future children, with your gifts and talents, with your stewardships in working with your fellowman as well as making a difference in the community," Clark said.
Three graduating seniors spoke, including valedictorian, Frank Skeen; and salutatorian, Steven Talley — the two graduates with the highest academic standing — as well as a senior speaker, Naomi Burton, who auditioned for the opportunity to speak.
The graduates' speeches began with Talley, who majored in both philosophy and liberal arts and grew up in Buena Vista. Talley encouraged his fellow graduates to make a positive difference in the world.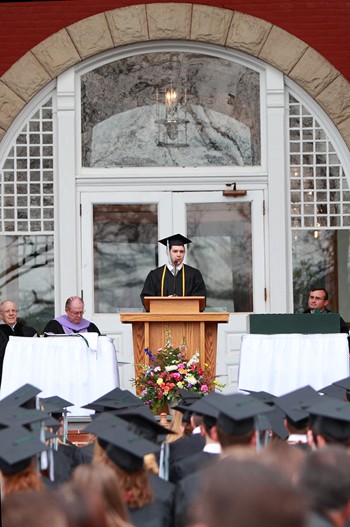 "We expand our vision, we look around us, and we remain open to what may seem to be the most unlikely of solutions to old and stubborn problems," said Talley. "After all, are those not the very types of exercises we have been trained to perform countless times during our academic careers at Southern Virginia University? The responsibility is ours, in whatever circle, to make good with our stewardship, and to improve upon our talents."
Talley based the theme of his talk on a scriptural phrase that he remembered Elder Robert Cochran, a former CES missionary at the Buena Vista Institute of Religion, quote frequently. The phrase, from the Doctrine and Covenants, states, "And if you desire, you shall be the means of doing much good in this generation."
"We can make a quantifiable difference in this world," said Talley. "It is impossible, given desire and action, that one cannot do much good. We 'shall' make a difference if we have a real, constant desire, from which I believe action is an inevitable consequence."
The senior speaker, Burton, is a liberal arts major from Bragg Creek, Alberta; Canada, who transferred to Southern Virginia from Brigham Young University in 2011. A young wife who is expecting her first child, Burton spoke about how her education has enriched her life and prepared her to be a parent. She offered a perspective on how the core values of Southern Virginia and the liberal arts curriculum can prepare students to become exemplary mothers and fathers.
"An excellent education for motherhood is ultimately the liberal arts education that is encompassed in Southern Virginia University's core curriculum and values of scholarship, discipleship, accountability, enthusiasm and refinement," said Burton. "Scholarship is more than knowing facts; it is a way of life… [it] is becoming part of my way of life and will consequently be part of the family culture in which I raise my children."
Burton addressed each of the core values of the university and mentioned a host of her professors, as well as other employees of the university, who had impacted her and helped her to develop the core values that the university espouses through her education and the community on campus.
"The education I have received here will influence my future family and home," said Burton. "Our ability, as graduates, to internalize our liberal arts education and apply it in our roles as mothers and fathers will determine the impact we have on the future, through our posterity."
Skeen, a business management and leadership major from Nyssa, Ore., spoke last — the final farewell from the graduating class.
"I can best celebrate and reflect on the years leading up to today with one phrase: 'smile and be thankful,'" said Skeen. "We have learned to think critically, reason analytically and communicate effectively in an environment unique from other institutions of higher learning."
Skeen expressed gratitude for all those who had inspired and educated him throughout the years — family and friends as well as dedicated professors. He urged graduates to go forward with a positive, thankful attitude as they commenced the next step in their lives.