Archived
Professor and Student Get Bylines in Sports Illustrated Cover Story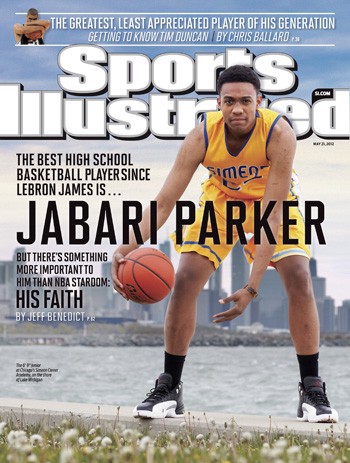 Southern Virginia University Professor Jeff Benedict wrote this week's Sports Illustrated cover story about high school basketball star Jabari Parker. A lengthy sidebar in the story was co-written by Southern Virginia student JJ Feinauer, one of Benedict's students and interns.
The cover story focuses on Parker's faith as an active member of The Church of Jesus Christ of Latter-day Saints and as an athlete who is being recruited to play in the top college basketball programs in the country. The sidebar focuses on the decision faced by LDS college athletes — past and present — on whether or not to serve a mission.
Feinauer did historical and statistical research for the SI story and even got to perform some of the interviews, including one with former NBA player Shawn Bradley.
Benedict is quick to praise Feinauer, who is currently helping him do research for several magazine and book projects.



"JJ has a lot of the essential qualities of a good journalist," Benedict said. "He reads a lot and is interested in a lot of things. He is really good at juggling projects and he's got great people skills. Based on the amount of hours he puts in for his internship with me and the connections he's making with people in the industry, I expect him to have a lot of options when he's deciding whether to go further in journalism or to go on to graduate school."
Benedict is the author of 11 books, including 2011's "Poisoned: The True Story of the Deadly E. Coli Outbreak That Changed the Way Americans Eat." His book, "The Mormon Way of Doing Business," now is in paperback and has a new chapter on presidential hopeful Mitt Romney, on which Feinauer worked extensively.
Southern Virginia University has no journalism program, but Benedict does not see that as an obstacle to students who want to be journalists.
"You don't need a journalism degree to be a good journalist," Benedict said. "You must write well, think critically and ask thoughtful questions. Those qualities are emphasized in the great liberal arts education offered at Southern Virginia University."