Archived
President Sybrowsky Announces New Leadership Model for Athletics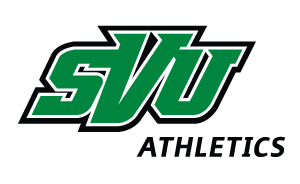 Southern Virginia University President Paul K. Sybrowsky announced the formation of a new leadership model for the university's athletics program this week.
This model, which was implemented earlier today, relies on two newly formed councils — the Athletic Leadership Council and Coaches Council — to administer Southern Virginia athletics.
The Athletic Leadership Council will be headed by Scott Y. Doxey, who will serve as athletic director in addition to fulfilling his responsibilities as vice president of operations and student services.
Doxey will work closely with both councils to form and implement policies for Southern Virginia athletics as it moves toward NCAA Division III membership. He is joined on the Athletic Leadership Council by five athletic administrators. The Coaches Council includes the Athletic Leadership Council plus seven head coaches.
"This model follows the pattern we use for the university's Executive Council and President's Council," said President Sybrowsky. "One of the key advantages of a council system is that it allows for broad input and broad responsibility. Scott is an extremely capable leader, but he will rely on these councils to administer an excellent athletics program and to help further integrate athletics into the university's larger mission."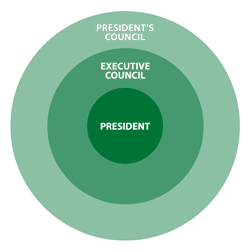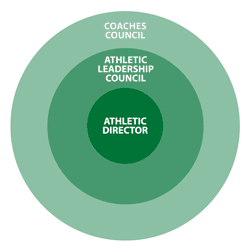 Southern Virginia's athletics program is coming off one of its most successful years to date as the Knights 17 athletics teams combined for a record of 127–116–2 — good enough for the second-highest combined win total in university history.
During the 2011–12 academic year, seven different Southern Virginia teams — baseball, golf, men's basketball, women's basketball, men's cross country, women's cross country and volleyball — qualified for USCAA championship events, highlighted by a women's cross country national championship.
The Knights also led the USCAA with 28 national all-academic selections this past year, while finishing third overall in the USCAA Director's Cup standings.
Athletic Leadership Council
Scott Doxey, Athletic Director and Vice President of Operations and Student Services

Tony Caputo, Assistant Athletic Director and Head Coach for men's basketball, tennis, and soccer

Deidra Dryden, Senior Women's Athletic Administrator and Head Women's Tennis Coach

Matt Grawrock, Compliance Officer and Head Women's Soccer Coach

Stephen Macurdy, Athletics Facility Manager and Head Men's Lacrosse Coach

Chris Pendleton, Sports Information Director
Coaches Council
Members of the Athletic Leadership Council

Logan Davis, Head Cross Country Coach and Head Wrestling Coach (club)

DeLane Fitzgerald, Head Football Coach

Duste Grawrock, Head Softball Coach

Mike Harmon, Head Coach for women's basketball and volleyball

Chad Mahaffey, Head Athletic Trainer and Assistant Men's Lacrosse Coach

Logan Mann, Head Baseball Coach

Chelsea Whetstone, Head Women's Lacrosse Coach
"I am thrilled to work closely with these new councils," said Doxey. "Three members of the Athletic Leadership Council are Southern Virginia graduates. It's vital that we use their talents and skills, combined with those of our other coaches and staff members, to enhance the experience of our scholar-athletes. By every indication, this is going to be a great year for athletics at Southern Virginia."