Archived
New Men's Volleyball Club Team Faces First Competition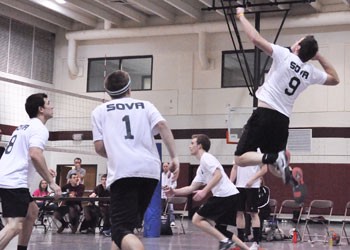 Southern Virginia's newly organized men's volleyball club team, which goes by the name SOVA, made history last weekend when the team competed in its inaugural tournament at Virginia Tech.
Despite dropping all three of their matches in Blacksburg, Va., SOVA's participants considered their first tournament a huge success.
"It was a lot of fun," said SOVA member Brock Harding. "We didn't win any games, but kept a positive attitude and improved throughout the day. I've played a lot of sports, but that was the most fun I've ever had competing in an athletic event."
SOVA's volunteer coach, Nicole Gwynn, who earned USCAA's honorable-mention all-American honors as a member of the women's volleyball team this past season after leading the Knights is both total assists (586) and assists per game (7.51), echoed Harding's sentiments.
"It was the most fun I've had in along time," Gwynn said following the tournament. "These guys worked so hard, made a ton of sacrifices and overcame so much to get to this point, and it was incredible to watch them out there competing against teams that have been together for years."
Gwynn explained that through hard work and three to four rigorous practice sessions per week the club has made great strides over the past few months. Since only two of SOVA's members had ever participated in organized volleyball prior to the club's formation, Gwynn promised that the squad would continue to grow with time.
"We just have a close-knit group of guys who really love playing and hanging out together," explained Gwynn.
Dr. Lora Knight, associate professor of history at Southern Virginia who traveled to support SOVA in Blacksburg, Va., described her experience watching the team with the following sentiment.
"I'd definitely encourage anybody who can to go watch a match," Knight said. "These guys are good, the longer they play together the better they'll get, and their enthusiasm and spirit of fun is really contagious. I totally enjoyed watching them!"
SOVA competes again this weekend at the University of Virginia in Charlottesville, Va., beginning at 10 a.m. EDT.