Archived
Independent Singer-Songwriter to Speak, Perform Jan. 20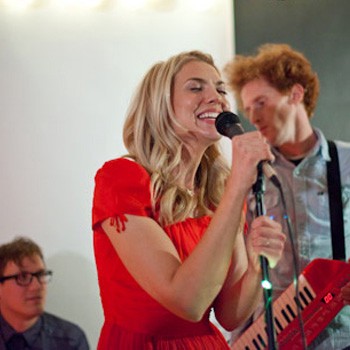 Mindy Gledhill, an award-winning songwriter and independent recording artist, will give a devotional entitled "The Gifts Within Us," on Friday, Jan. 20, at 11 a.m. in the Stoddard Center at Southern Virginia University.
In addition to her devotional address, Gledhill will perform a concert on Friday, Jan. 20, at 7:30 p.m. in Southern Virginia's Chandler Hall. Tickets are $3 when purchased in advance from the Office of Student Financial Services — 540–261 -8405 — or $5 at the door.
Gledhill began her career recording faith-based music. After releasing her first album, "The Sum of All Grace," in 2004, she received three Pearl Awards — Best Inspirational Album, New Recording Artist and Best Inspirational Song — from the Faith Centered Music Association. Her music also has been featured on several Especially For Youth albums.
In 2007, Gledhill made her debut as an independent artist with her sophomore album, "Feather in the Wind." Her second independent album, "Anchor," was produced by Stuart Brawley — a Juno-nominated producer for artists like Michael Jackson, Celine Dion and Lenka. Songs from "Anchor" have been featured on major network television programs including ABC's "60 Minutes" and Fox's "Bones."
Gledhill also has been featured as a guest soloist on two of American DJ Kaskade's recent albums, "Fire and Ice" and "Dynasty." The week it was released, "Dynasty" hit number one on the iTunes dance charts and number five on all of iTunes. Her song "Eyes" on "Fire and Ice" hit number one on Billboard's Dance Airplay charts.
She has performed at numerous venues including the Sundance Film Festival, the Monaco Film Festival and the Durango Music Conference.
Gledhill lives with her husband, Ryan, and their three sons in Provo, Utah.
Community members and Southern Virginia faculty, staff and students are invited to hear forum and devotional speakers each Friday morning at 11 a.m. in the Stoddard Center. Recordings of past forum and devotional speeches may be accessed online.