Archived
Homecoming: Alumni Succeed, Return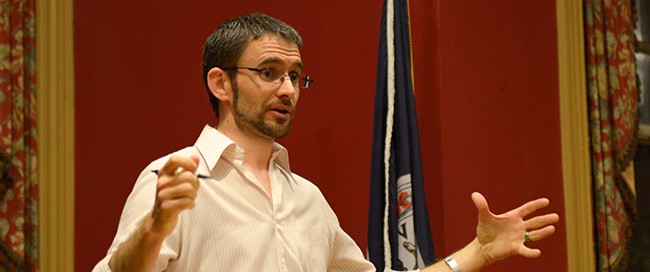 Daman and Morgen Reynolds, who met when they attended Southern Virginia University as undergraduates, are two of many alumni returning to their alma mater this week — like others, they have returned to the university both to see old friends and to give back by helping the next generation of Southern Virginia students.
Daman Reynolds ('05), a licensed marriage and family therapist who majored in family and child development, gave a presentation this week to provide tips and insights to current students on the transition from Southern Virginia to graduate school, and from graduate school to life as a licensed therapist.
He first came to Southern Virginia because his brother, Reese Reynolds, attended the school. Later, his brother Braden Reynolds joined them at Southern Virginia — where all three of them met their wives, and earned bachelor's degrees.
"I stayed at Southern Virginia because of the opportunity I had to contribute significantly to a growing university," said Daman Reynolds. "The idea of preparing leader-servants, as well as the liberal arts core, really resonated with me."
Daman and Morgen met during a service project coordinated by the school. They married after Morgen ('01) graduated with a bachelor's degree in English and began attending graduate school at North Carolina State University. After she received a master's degree, she returned to Southern Virginia as an adjunct instructor of English. While his wife gave back to her alma mater by teaching the next generation of students, Daman Reynolds completed his bachelor's degree at Southern Virginia.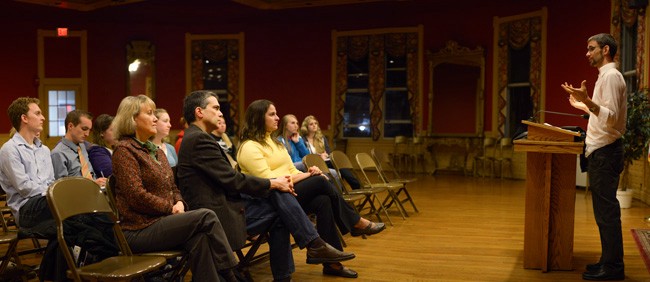 "One of the most influential experiences I had at the university was the one-on-one mentoring that I got from Professor Ariel Rodriguez," said Daman Reynolds. "I had the opportunity to work closely with him and to present at a couple of small conferences. I was grateful that he took me under his wing and that I was able to do that with him."
Upon his graduation, he was accepted to Virginia Tech's highly-ranked marriage and family therapy program — the oldest continually-accredited marriage and family therapy program in the country.
He was one of 12 students accepted to Virginia Tech's program that year. Additionally, out of the 12 accepted, he and only one other student received a graduate assistantship. He said that his experiences doing research at Southern Virginia were "pivotal" for him to qualify for the assistantship.
He received a master's degree in human development from Virginia Tech and currently works for an agency called Youth Villages as a family counselor. He said that in addition to general relationship counseling, he has "a lot of experience in trauma work, particularly working with survivors of sexual abuse and their families." Daman and Morgen Reynolds have three children and currently reside in North Carolina.
"I developed some relationships at Southern Virginia that I continue to highly value, not just with my wife, but with professors who influenced me in significant ways," said Daman Reynolds. "They are people I look up to and see as mentors and friends. They taught me to think critically and to think on my feet. Not just to regurgitate information, but to actually have my own ideas. Learning to think, as simple as it sounds, is not an easy feat, and is at the core of Southern Virginia's teaching philosophy."