Archived
From Researching Colbert to Interning on Capitol Hill: A Senior's Story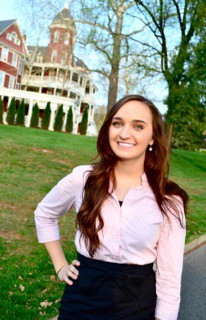 For Whitney Reed, walking up the steps of Main Hall at Southern Virginia University to receive her diploma on Saturday morning will mark the completion of her undergraduate education in only two years — during which time she wrote a 22-page senior paper on "The Colbert Report" and "The Daily Show," and landed a summer internship on Capitol Hill.
In her senior paper, Reed utilized existing studies and arguments on "The Colbert Report" and "The Daily Show" and explained those arguments through political psychology. She showed how these two television shows affect their viewers, and ultimately, political attitudes in the United States.
"Professor John told me about this study about 'The Daily Show' and it just sparked my interest and from there I just did all the research," said Reed. "I broke down how humor is processed in the brain so I could show how the T.V. shows affect us and then I also analyzed special techniques in their shows to explain how they affect political attitudes."
In addition to presenting her senior paper to Southern Virginia students, faculty and staff last week, Reed also presented her paper at the Undergraduate Research Symposium at the Virginia Military Institute last Thursday.
"It was a really interesting senior paper," said Jeremiah John, associate professor of politics at Southern Virginia, who advised Reed's senior paper. "One thing that I love in senior paper students is when they dedicate themselves to learning how to write a scholarly paper in political science. She did a great job of trying hard to learn about all this research in political psychology and political science and how scholarly papers work, so her senior paper turned out really great."
Reed came to Southern Virginia in 2010 — already having completed a number of college credits through her high school's concurrent enrollment program. Since then, she has taken at least 18 credits each semester. Now, at only 19 years old, Reed will graduate with a hard-earned bachelor's degree in politics.
"Finishing college in two years is pretty amazing because you may be a really hard worker and have done a lot in high school, but it's hard to reach the level of intellectual maturity and be ready to do all the things you're supposed to do in college," said John. "A lot of people at 19 are just figuring out what college is, and she's already finishing."
Reed said that her experience at Southern Virginia changed her decision about her future career path.
"Before I got to school here, I thought that I wanted to go to law school," she said. "But then I realized that I wanted to be a teacher. I just realized that the people who have been the most impactful in my life have been my teachers, and that was reemphasized here. I was in Professor Francis MacDonnell's American civilization class my very first semester — he's one of the personalities that made me realize I wanted to teach."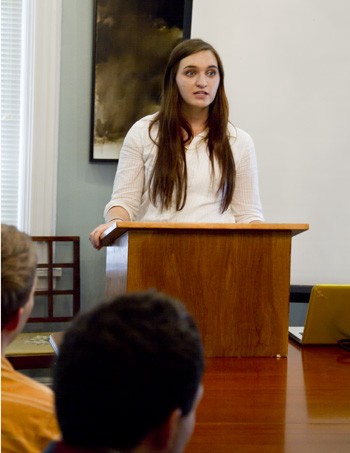 Even though Reed, a Marriott Scholar, has had a rigorous academic schedule, she has still managed to serve as the secretary of the university's chapter of the national history honor society Phi Alpha Theta and participate in panels to discuss politics with forum speakers, among other pursuits.
"She is a remarkable student," said John. "Whitney has a whole lot of enthusiasm for the liberal arts. She's not just serious about getting good grades, but she's serious about the things we're learning and she finds them interesting and always wants to know more about them."
After she interns this summer in the office of Congressman Rob Bishop, who represents the first district in Utah, she plans to apply for Teach for America, an organization dedicated to expanding educational opportunity. Teach for America recruits thousands of top recent college graduates each year — who then spend two years teaching in a low-income community.
Her long-term plans also include pursuing a master's degree in education — she plans to apply to schools including Harvard University, Boston College and the University of Utah.
Beyond the ways that her experience at Southern Virginia has influenced her educationally, Reed said that she has appreciated the Latter-day Saint environment on campus.
"I have really enjoyed the LDS aspect of the campus," she said. "I feel that the school has given me a practical application of the gospel and taught me how to incorporate the gospel within my educational views and how to use that in the future. It's honestly prepared me as a leader-servant no matter what career I go into."