Archived
Free Medical Clinic Returns to Southern Virginia March 3-4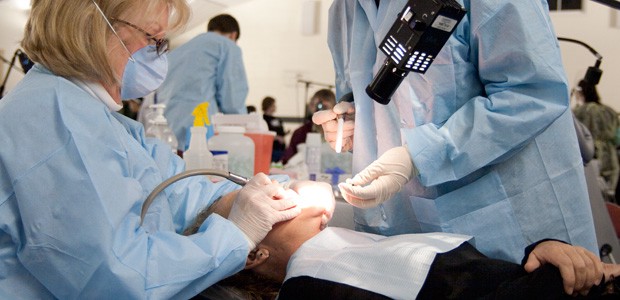 Remote Area Medical® will return to the campus of Southern Virginia University for a two-day clinic on March 3–4 to provide free medical, dental and eye care for patients in the surrounding area.
Dental services will include cleanings, fillings and extractions. Full-service vision care will be available, including basic screenings, refracting and eye exams. Additionally, if a patient is found to need eyeglasses, a pair will be made on site using a supply of lenses for most common prescriptions combined with the patient's selection from a wide variety of hundreds of frames, including designer frames. Medical services will include routine medical screenings, including women's health exams and bone density scans.
"We're offering free medical care to those who can't afford it, aren't insured, or would like to take advantage of the opportunity to benefit from these services," said Alena Harris, a liberal arts major on the pre-med track at Southern Virginia who is helping to coordinate the clinic. "There's been a lot of support from the faculty and people in the community. It has definitely been a collaborative effort. We're hoping to get even more involvement with the community."
When the university hosted RAM in 2010, the two-day clinic provided care for nearly 700 patients. In addition to the numerous dental and medical professionals that volunteer their services for RAM clinics, Southern Virginia students, faculty and staff, as well as community members, are able to volunteer. In 2010, a total of 274 volunteers assisted with the clinic.
This year, clinic coordinators anticipate professional volunteers to include dentists, doctors, a few oral surgeons, eye doctors, and other medical volunteers to assist with triage.
Remote Area Medical® is an international publicly supported all-volunteer charitable organization. In conjunction with volunteer medical professionals and others, RAM provides medical, dental and eye care, among other services, to uninsured and under-insured patients in remote areas of the United States and the world.
In addition to previously hosting a RAM clinic at Southern Virginia, faculty and students from the university regularly participate in RAM trips in other areas. Southern Virginia students have participated in close to 50 RAM trips since the university became involved with the organization nearly 10 years ago.
The clinic coordinators and planning committees encourage students and community members to join with medical and dental personnel to make this year's clinic a success through volunteering their time, making a monetary donation or providing accommodations for professionals participating in the clinic.
"I hope that the community will participate in this clinic," said Harris. "We need their support because RAM is all about the community helping the community. I encourage everyone to get involved because it is a rewarding experience and the service rendered will benefit hundreds."
For more information, visit the clinic's website, bvsvuram.org, or call 540–572–0889.