Archived
Former Southern Virginia President Ferrel to Speak at Devotional Sept. 28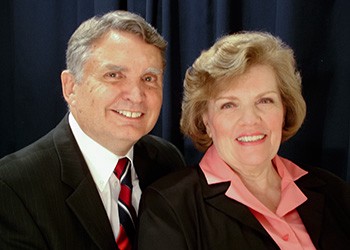 David W. Ferrel, former president of Southern Virginia University, and his wife, Laurel, will give a devotional address titled "Southern Virginia University Miracles" on Friday, Sept. 28, at 11 a.m. in the Stoddard Center at Southern Virginia.
David Ferrel was the first president to serve Southern Virginia College following its transition into a four-year liberal arts college with a Latter-day Saint environment. He served as president from 1996 to 1999 — under his leadership, the number of doctoral level faculty expanded and the university's enrollment size doubled.
Prior to retiring, he served as CFO for Universata, Inc., a computer systems integration corporation. He also has served as senior research executive at Wirthlin Worldwide — where he directed the statistical research team and expanded customer satisfaction research.
Ferrel previously served as the deputy director of the Office of Policy Development, Office of the Secretary, U.S. Department of Commerce. He was a personal economic advisor to the Secretary of Commerce, and an advisor to the White House, the Council of Economic Advisors, and the National Security Agency. In addition to several other positions within the offices of the U.S. Governement, he has been a Presidential economic spokesperson.
He received a master's degree in business administration from the University of California at Berkeley.
Laurel Ferrel graduated from Brigham young University and taught high school in both Utah and California. She has served The Church of Jesus Christ of Latter-day Saints in a variety of capacities including as a relief society president, a seminary teacher, an institute teacher and as co-director of a Family History Center.
Together, the Ferrels have served the Church in foreign countries twice while David Ferrel was president of the Santiago Chile Missionary Training Center and the Ecuador Quito Mission.
David Ferrel also has held a number of other leadership callings including service as a member of the Fifth Quorum of the Seventy of the Church, a regional representative, a stake president and as a bishop.
The Ferrels have six children and 21 grandchildren.
Community members and Southern Virginia faculty, staff and students are invited to hear forum and devotional speakers each Friday morning at 11 a.m. in the Stoddard Center. Recordings of past forum and devotional speeches may be accessed online.