Archived
Faculty Member Serves Community Through Christmas Baskets Program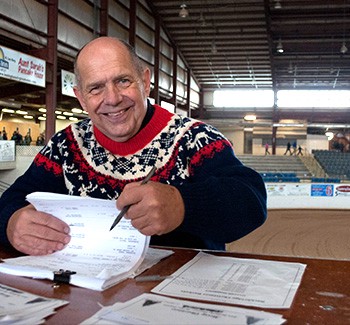 On a Saturday morning in December each year, hundreds of community members including Southern Virginia University students, faculty and staff gather in the Virginia Horse Center in Lexington, Va., to help a local charitable organization — Rockbridge Christmas Baskets — provide both presents and Christmas dinner for families in need.
Rockbridge Christmas Baskets is lead by four volunteer co-chairs — one of whom, Colonel William B. Lowe Jr., is assistant professor of mathematics at Southern Virginia, and has served as one of the program's co-chairs for more than 15 years.
For the past 64 years, the program has annually provided food and toys for families in the Rockbridge County area. This year, the program gave 1700 boxes of food to 1050 families and provided toys for more than 970 children.
"It is so neat on packing day to see people from all different walks of life in the community — we have state representatives and ordinary working people all mixed together to pack those boxes," said Lowe. "I think it blesses both the lives of the recipients and those packing the boxes and delivering them."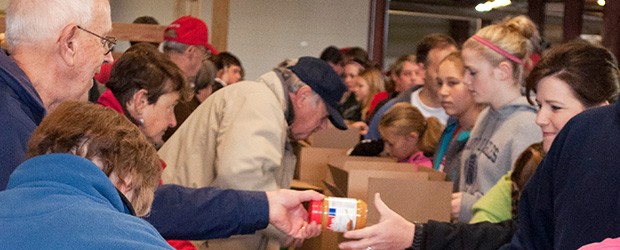 Lowe, who served in the United States Air Force for 28 years, began participating in the Rockbridge Christmas Baskets program when he moved to Lexington, Va., in 1991 to serve as commander of the Air Force ROTC detachment at the Virginia Military Institute. After he retired from the U.S. Air Force, he began teaching at Southern Virginia and continued to serve the school during its transition into a four-year liberal arts college. In addition to other ways he has served his community and country, Lowe, a Methodist, serves on the Pastor Parish Relations Committee of his church.
He and his wife have been married for 45 years and have four children and five grandchildren. Lowe said that he feels the Rockbridge Christmas Baskets program is an important way for families to serve together and that he "recommend[s] that you take your children with you" to pack and deliver the food and toys.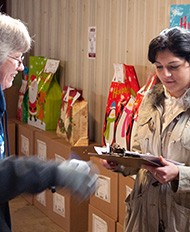 For Kathryn Bouchelle, a sophomore from Buena Vista, Va., serving with the Rockbridge Christmas Baskets program has become a family tradition. Bouchelle said that she and her family members have participated for the past 12 years.
"It's really become a family bonding experience for us," said Bouchelle. "This year, it was on my little brother Granger's birthday, so we celebrated his birthday later in the evening. I think the reason why it's such a fun experience for me and my family is because when you go there you just connect with everyone else on a more personal level and feel the spirit of giving and of Christmas. It's such a great feeling and it brightens up the rest of my day."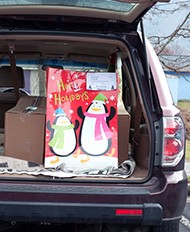 According to Lowe, preparation for the annual packing and delivery of Christmas food and toys occurs all year long. Lowe, as one of the program's co-chairs, is responsible for coordinating with representatives of the 17 delivery areas to assemble a list of those who are in need of the program's help.
"We have different organizations throughout the county responsible for delivery to their area of concern," said Lowe. "We depend on these organizations to be the last line of defense for people in need."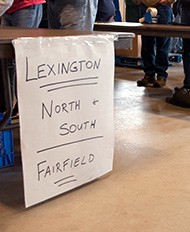 The organizations responsible for delivery include The Church of Jesus Christ of Latter-day Saints — which delivers to Buena Vista, Va., — and the Lexington Rotary Club, as well as fire departments, rescue squads and social clubs.
In addition to Lowe and the other three co-chairs — Ab Hammond, John Smith and Audrey Hawkins — all of the individuals involved with Rockbridge Christmas Baskets are volunteers. More than 97 percent of all donations to the program go directly toward buying the thousands of pounds of food and hundreds of toys delivered to area residents each year.
According to Jonathan Bowden, a Southern Virginia senior from South Jordan, Utah, who has participated in Rockbridge Christmas Baskets for the past three years, the program helps students learn the value of integrating themselves into the local community while they are away at school.
"It's an opportunity to serve with community members that I normally don't get to interact with," said Bowden. "It's amazing to see how many lives we can bless when we all work together."