Archived
Early Start: A Tale of Two Katies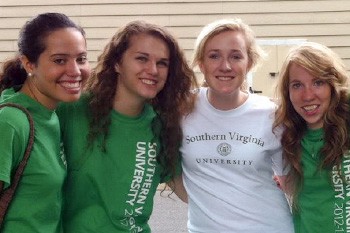 More than 2,000 miles from her home in Kaysville, Utah, Katie De La Mare struck up a conversation in the Dulles International Airport with another young woman, who, as it turned out, also was named Katie and who also was on her way to the same small liberal arts college.
"I came into the bathroom and saw another girl who had a ton of bags all alone, and I said, 'are you going to college?'" De La Mare said. "She said 'yes,' and I asked her where. She said that she was going to Southern Virginia University. I said 'me too!'"
After realizing that they were headed to the same school, De La Mare and Katie Peeler, a music major from Murrieta, Calif., introduced themselves — and De La Mare learned that her new friend shared her first name. But that is not all they had in common.
De La Mare then saw a violin case among Peeler's belongings, and a few sentences later, the two realized that they would be in the Southern Virginia University Orchestra together in the fall. After their initial meeting, the two rode on the same shuttle to their destination in Buena Vista, Va.
"We were living on the same floor of The Lofts and we even used the same weird phrases," said Peeler. "It was really bizarre."
Both Katies had arrived two weeks before the fall semester for "Early Start," a newly instituted program at the university that includes a choice between several two-week, one-credit courses, as well as trips to Washington, D.C., and nearby Lexington, Va., to give new students a headstart at Southern Virginia.
They took the same Early Start class called "'How Firm a Foundation': How to Succeed at a Liberal Arts College" — a class of 12 new students taught by the university's provost, Dr. Madison U. Sowell.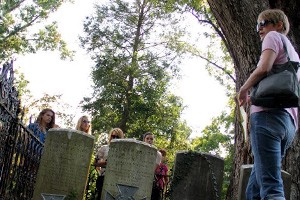 In the provost's class, Peeler — who previously attended a large high school and chose Southern Virginia because of its small classes — got her first taste of the benefits of what those at the university call "the genius of small." De La Mare said that the class was excellent preparation for her college experience, helped her understand what a liberal arts education is, and got her back into the mode of doing schoolwork after summer break.
"The Early Start classes were an unqualified success on many levels," said Sowell. "We were delighted with the quality of the students who came, with the eagerness of the participants to make the transition from high school to college, and with the students' desire to learn about Southern Virginia and the surrounding historical sites."
Peeler and De La Mare were two out of a total of 29 students who participated in Early Start this year. Following their Early Start classes, they, along with other incoming students, had the opportunity to attend New Student Orientation before taking fall semester classes, which started this week. During Early Start, Peeler and De La Mare said that they spent almost all of their time together.
"We've done a lot of the same things since we've been here, and when we're not together, people don't remember our names," Peeler said. "But when we are, they say, 'Oh, the Katies.'"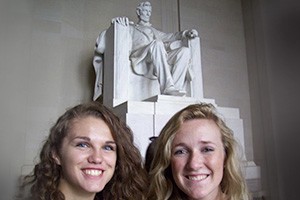 In their first two weeks at Southern Virginia, the two friends enjoyed many new experiences together — they took their first college course, explored historical sites and saw their first fireflies.
"We were on the stairs and we saw a firefly and we started running around and got so excited," said Peeler. "We even asked Provost Sowell about them because we didn't know if they were fireflies or lightning bugs, or if those were both the same thing."
Both Katies said that they are excited for the new school year and grateful that they got an early start at the university.
"I love the campus, it's very pretty here," said De La Mare. "I love all the people that I meet — they're all so nice. And there is a really cool environment here."