Archived
David C. Clark to Speak at Commencement April 28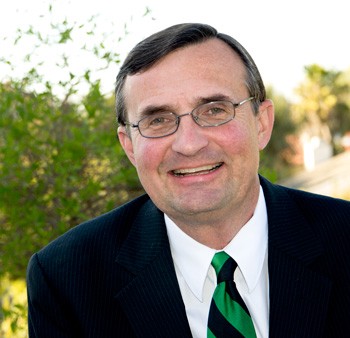 David C. Clark will address graduates, families, friends and the faculty and staff of Southern Virginia University at the 2012 commencement exercises on Saturday, April 28, at 10 a.m. in front of Main Hall.
Clark is chief operating officer of Synergy Companies, which focus on energy efficiency, renewable energy and the environment. He also serves on the National Advisory Council for Southern Virginia University and as a national board member of the National Association of Energy Service Companies.
With his expertise in energy efficiency, Clark has provided significant contributions to Southern Virginia University, including consultation during the construction of The Lofts residence hall. Clark also contributed light fixtures, motion detectors and other energy-saving materials and devices throughout the Southern Virginia University campus, including additional and improved insulation in Main Hall.
"Through his contributions and consultative advice, the university has and will continue to save thousand of dollars in energy-related costs each year," said Robert Huch, vice president of finance at Southern Virginia University.
Clark is advisor to a private foundation that helps Latin American adults obtain technical certification to enter the workforce. The foundation, whose donors wish to remain anonymous, has helped more than 1,000 students graduate — more than 90 percent of whom are employed by the time they complete their studies. Students pay back their scholarship grants to the foundation by performing community service while they are in training. They typically earn two-to-three times more than before their training.
Clark currently serves as the bishop of a young single adult ward of The Church of Jesus Christ of Latter-day Saints. Previously, he served as president of the Spain Madrid Mission from 2000–2003. He has served as a bishop, branch president of a Spanish branch, counselor in a stake presidency, seminary teacher and full-time missionary in the Ecuador Quito Mission.
Clark received a bachelor's degree in accounting from Brigham Young University. He and his wife, Wendy, are the parents of five children, two of whom attended Southern Virginia University. The Clarks currently have two sons serving missions — one in Louisville, Kentucky, and the other in Bangkok, Thailand.