Archived
Concert Chorale to Perform at 2012 W&L ChoralFest March 29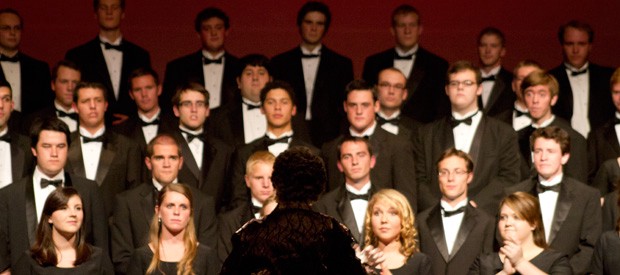 The Southern Virginia University Concert Chorale, the Washington and Lee Chamber Singers and two other choral groups will perform at the 2012 W&L ChoralFest on Thursday, March 29, at 8 p.m. in Jackson Hall at the Virginia Military Institute.
The concert will honor world-renowned composer and conductor René Clausen. Each participating choir will perform a set of choral classics, including one piece by Clausen, for 15 minutes. Following each choir's performance, Clausen will conduct all of the choirs combined in the 250-voice Festival Mass Choir to perform Clausen's new work, "Lux Aeterna."
"The chance to work with a conductor and composer of René Clausen's ability is a once-in-a-lifetime opportunity for all of the singers involved," said Shane Lynch, director of choral activities at W&L who organized the ChoralFest. "Dr. Clausen's prolific contributions and esteem in the American choral world are unmatched."
Clausen has written dozens of commissioned compositions for organizations such as the American Choral Directors Association including, "Memorial" and "Crying for a Dream." He has conducted works by composers including Mozart, Beethoven and Brahms at Carnegie Hall in New York City. He has served at Concordia College as artistic director of the award-winning Concordia Christmas Concerts and conductor of the acclaimed Concordia Choir for 25 years.
The W&L choral program commissioned Clausen to write "Lux Aeterna" for the 2011–2012 season. The ChoralFest performance will be the debut of the piece with Clausen as conductor.
The Festival Mass Choir also will perform James Erb's traditional "Shenandoah," a song well-known to members of the surrounding community. The Concert Chorale traditionally sings "Shenandoah" each year at Southern Virginia's Commencement as well as at the annual Homecoming concert.
In addition to the two universities' choral groups, the Rockbridge Choral Society Singers, Fredericksburg Christian High School's Savior's Echo, and professional tenor Powell Leitch will perform.
The ChoralFest will begin with a lecture on Clausen's place in contemporary American choral music by Lynch on Wednesday, March 28, at 8 p.m. in the Wilson Concert Hall at W&L. Additionally, the choirs will participate in a full day of music rehearsals and workshops prior to Thursday's performance.
Tickets are not required for the concert, but seating is limited and on a first-come, first-served basis.