Archived
Alumna Named Virginia Teacher of Promise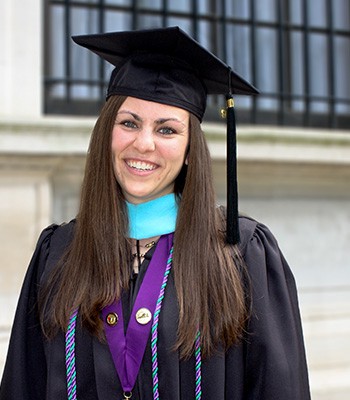 While pursuing a graduate degree at Marymount University — where she graduated with a 4.0 grade-point average in May — Southern Virginia University alumna Holly Burningham ('09) was named a Virginia Teacher of Promise, a distinction given annually to top students in Virginia's 37 teacher education programs.
"Southern Virginia University prepared me so well to work hard and I think the award is in large part a result of my four years at Southern Virginia," said Burningham. "The university really helped shape who I am."
In 2011, she was one of only four applicants in her region accepted into a condensed, intense special education program at Marymount that combined all of the required coursework into a 12-month period. As part of her coursework, she participated in three teaching internships — with positions in high school and elementary special education classrooms, and taught students with severe cases of autism as part of the Multi-Intervention Program for Students with Autism.
Burningham decided that she wanted to be a teacher during the end of her time at Southern Virginia, where she majored in physical education and recreation administration. This decision led her to spend the next two years working as a special education assistant — first in the Buena Vista City Schools and then at Patrick Henry Elementary School in Arlington, Va., where she worked with three-to-seven-year-old students who were deaf or hard of hearing.
At Marymount, she became a member of the prestigious international honor society in education Kappa Delta Pi — established in 1911 "to foster excellence in education and promote fellowship among those dedicated to teaching," according to the society's website. Kappa Delta Pi has 600 chapters throughout the world.
"I found that when I entered graduate school, my academic workload was in some ways lighter than it was at Southern Virginia," she said. "One of the biggest benefits from my education at Southern Virginia was that I learned to do my work — to come to class prepared with critical thoughts and questions. I think I had higher expectations of what the teachers [in graduate school] would ask of me because Southern Virginia teachers asked so much."
Burningham will start her career with a position as a special education teacher at Patrick Henry Elementary School this fall. Additionally, she began teaching a summer class with the Multi-Intervention Program for Students with Autism in Arlington, Va., last month.
Though Southern Virginia helped her to reach her career goals, she said that her experience at the university — where she ran cross-country and track, and met her husband, Ben, in the gym — brought her not only educational growth, but also spiritual and personal growth.
"Spiritually, I grew leaps and bounds," Burningham said. "I'm a completely different person now. The small community that Southern Virginia offers helps people grow so much because they're able to have a family — the whole university becomes your family and helps you grow emotionally and spiritually as well as academically."