Archived
2012 Service and Teaching Award Recipients Announced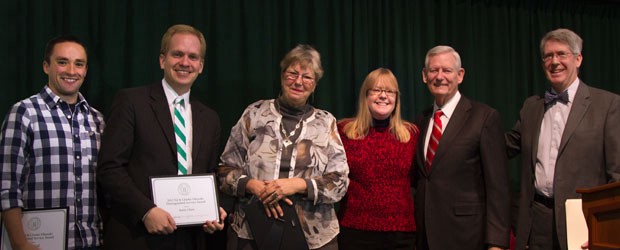 Southern Virginia University Provost Madison U. Sowell today announced the recipients of the 2012 Ed and Chieko Okazaki Distinguished Service Award and the Michael and Kay Elton Lectureship for Outstanding Teaching and Scholarship Award.
The Okazaki award for distinguished service, now in its sixth year, is given annually by surprise announcement to representatives of Southern Virginia's student body, staff and faculty. This year's recipients include Jason Call, a senior from Preston, Idaho; Burke Olsen, vice president of communications and marketing; and Dr. E Susan Kellogg, professor of business. Nominations for award recipients were opened up to all Southern Virginia students, faculty and staff.
The recipient of the 2012 Elton Award is Dr. Barbara van Kuiken, associate professor of chemistry. The award, established by Michael Elton, a member of the board of trustees at Southern Virginia, honors a member of the faculty who has demonstrated outstanding teaching and scholarship. The recipient of the award will deliver a formal address in a forum during the coming spring semester. In addition, the award carries with it a $5,000 stipend.
The Okazaki award's namesakes are Ed, a Japanese–American who served in a highly decorated unit of the U.S. Army during World War II, and his wife, Chieko, who was an author, educator and former first counselor in the Relief Society general presidency of The Church of Jesus Christ of Latter-day Saints.
The award honors exemplary leadership and service. For student recipients, the honor appears on their permanent transcripts and ranks with valedictorian as the highest distinction afforded to a Southern Virginia University student.
Jason Call
Jason Call, a biology major on the pre-med track at Southern Virginia, has not only learned about the academic aspects of medical care, but also has participated in Remote Area Medical — an organization that provides free health care to remote areas of the United States and the world.
Additionally, he has served in numerous ecclesiastical callings, and currently serves as president of the Buena Vista Institute of Religion Institute Council. He also serves his fellow students as a teaching assistant for the class, "Becoming a Leader-Servant," and as a resident assistant.
"[Call] has consistently balanced multiple assignments… Furthermore, he has done so with a 'signature smile on his face,'" said Provost Sowell. "As one nominator writes, 'he still finds time to bake cookies for people, run people to the airport, help classmates with their homework, and spend time with those in need.' In addition, he has recruited numerous students to the LDS Institute program over the past two years."
Burke Olsen
Burke Olsen has served as vice president of communications and marketing at Southern Virginia for more than five years. He also served as bishop of one of the Buena Vista student wards prior to the formation of the YSA stake. He recently accepted a position at the Deseret News, where he will begin serving on Dec. 10.
He previously has worked in Washington, D.C., at the Pew Forum on Religion and Public Life and at Susan Davis International, a boutique public relations firm. While working for New York-based Coltrin and Associates, he was a VIP coordinator for the Salt Lake 2002 Olympic Torch Relay and a media coordinator for the Salt Lake 2002 Olympic Winter Games.
"In many ways [Olsen] is 'the face and voice of Southern Virginia University' a face and voice… that will soon be dearly missed," said Provost Sowell. "Over the past five years, he has served with distinction in multiple roles and has completed yeoman service in helping to bring the university out of obscurity through interactions with journalists and public figures."
Dr. E Susan Kellogg
Dr. E Susan Kellogg, professor of business and chair of the division of family and social sciences, has served Southern Virginia for the past decade. During that time, she has fed more than 1,000 students at activities organized in her home. She also has led students in service projects — organizing them to plant trees and beautify the campus landscape as well as to paint and refurbish a classroom.
Kellogg previously has served on the faculties of Mount Vernon College, Johns Hopkins University's School of Continuing Studies, Trinity College, Mount Saint Mary's College, Gettysburg College, and the John Sperling Graduate School of Business at the University of Phoenix in Maryland. She also has served as the vice president and dean of students at Wheaton College and Hood College. Additionally, she was the first female insurance commissioner for the State of Maryland.
"[Kellogg] is known for blending high professional and personal standards with genuine caring for the welfare and success of students," said Provost Sowell. "One of her most memorable activities was teaching students to knit hats for premature babies born in the Roanoke Hospital."