Archived
University Brings Back Men's and Women's Golf Programs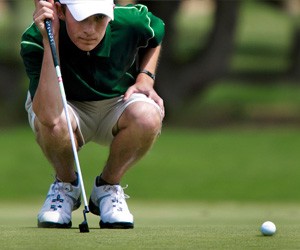 Southern Virginia University will reinstate to its athletics program men's and women's golf teams, which will begin competition fall semester 2011.
"Golf is a great fit for us," said Acting Athletic Director Deidra Dryden. "We have five years of experience running a golf program and the time is right to bring it back."
Men's and women's golf teams were initially added to Southern Virginia's athletics program in fall 2005. The programs ran successfully for five seasons, even producing a men's United States Collegiate Athletic Association individual national champion, Grant Dean, in 2007 before being put on hiatus in spring 2010 while the athletic department underwent restructuring.
"Everything the program needs to be successful again is in place," Dryden said. "We hired a proven coach and recruiter to run things, both teams will have access to a beautiful local course, and the men's team will have an immediate opportunity for post-season play."
Head Men's Basketball Coach Brian Pendleton, who coached men's and women's golf at Southern Virginia in spring 2007, has agreed to get both teams off the ground and coach the first season.
"Our goal is to field a men's and women's team each with six scholar-athletes this fall and grow from there," said Pendleton. "We've already heard interest from current and prospective students."
The Knights will practice at the Vista Links, an 18-hole, 6,925-yard, par-72 public golf course, which opened in 2004 and is located less than two miles from the Southern Virginia campus.
Southern Virginia competes in the USCAA, which offers a national tournament for men's golf that will be held this fall at Penn State University from Oct. 9–11.
"By adding these programs we have created a great opportunity for young men and women to play golf at the collegiate level while receiving an outstanding liberal-arts education in an LDS environment," Dryden said.
Southern Virginia's current intercollegiate teams include men's baseball, basketball, cross country, football, soccer, tennis and wrestling and women's basketball, cross country, soccer, softball, tennis and volleyball.
Anyone interested in learning more about men's or women's golf at Southern Virginia University is encouraged to contact Brian Pendleton brian.pendleton@svu.edu.
Southern Virginia Golf Coaches
Fall 2004-Fall 2006 — Kevin Parks
Spring 2007 — Brian Pendleton
Fall 2007-Spring — 2008 — Kevin Parks
Fall 2008-Spring 2010 — Tom Longenecker
Fall 2010-Spring 2011 — Program on hiatus
Fall 2011 — Brian Pendleton