Archived
Two Trustees Culminate Service to Southern Virginia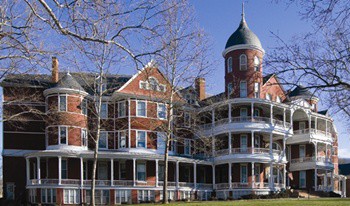 Two members of Southern Virginia University's board of trustees have stepped down in order to fulfill other obligations.
Ned C. Hill has been called to serve as president of the Romania Bucharest Mission of The Church of Jesus Christ of Latter-day Saints. Elder Christopher B. Munday, an area seventy for the Church, stepped down as part of a personal effort to scale back his obligations and have more time for family and church service.
Hill is the National Advisory Council Professor of Business Management and former dean of the Marriott School of Management at Brigham Young University. In order to prepare for his assignment, which he will begin in July, he has resigned from all non-essential obligations and board memberships. Neither he nor his wife, Claralyn, speak Romanian and they are using much of their spare time to study it prior to their departure this summer.
"I am highly impressed with the students, the faculty, the administration and the spirit of Southern Virginia University," Hill said. "In a world of confusing values, Southern Virginia stands head and shoulders above its peers. Here is a university where students can receive not only an excellent, small-classroom-environment education, but can also rub shoulders with peers and leaders who are deeply committed to faith, ethical values, and the divine potential of each individual. It has been an honor to associate with the university over these past several years. I look forward to seeing it further grow and prosper as it fills its vital mission."
Munday is an operating executive with Golden Gate Capital and chairman and CEO of several of their portfolio companies. He also serves as chairman of Western International, a global executive consulting firm. He is a former CEO, president and managing director in both the apparel and paper industries with companies such as Scott Paper and Kimberly-Clark. He holds a diploma in marketing, a bachelor's honors degree in business and an MBA.
"Serving as a trustee these past three years at Southern Virginia University has been a choice experience in every respect," Munday said. "Under President Smith's incredible leadership and direction this great university and faculty team provides opportunities to students along with a true one-on-one personal focus that is unparalleled anywhere else."
Hill joins several other Southern Virginia trustees, including Munday, who have presided over missions for the Church. Others include Kent Colton, Madison Sowell and Dave Ulrich. Trustee Lynette Gay presided with her husband, Elder Robert C. Gay, when he served as a mission president. J. Mitchel Scott, who now serves as president of the Raleigh North Carolina Temple, also served as a mission president.