Archived
Two Music Students Receive Unique Preparation for Graduate School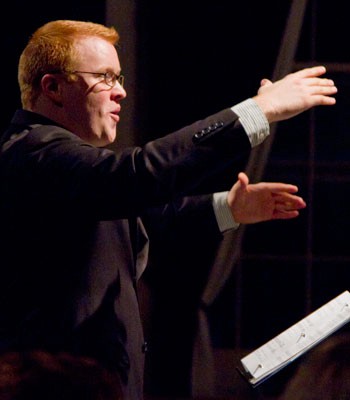 Two current students at Southern Virginia University are receiving choral conducting experience that will give them a head start in graduate school and their future careers.
Most choral conducting students at undergraduate universities spend years after graduation conducting junior high or high school choirs to gain the experience required for admission to graduate programs in conducting. Kyle Nielsen, a senior from Campbell, Calif., and Nate Pence, a senior from Buena Vista, Va., will have two years of experience conducting a college-level ensemble by the time they graduate.
"Graduate schools don't believe me when I tell them that I'm in my second year as one of the primary conductors of a university ensemble and I'm an undergraduate," said Nielsen. "This is the genius of small."
In the spring of 2010, Nielsen, Pence and others took an advanced conducting class at Southern Virginia from Dr. La Rae Carter, visiting assistant professor of music and music program coordinator, and Mark Taylor, assistant professor of music.
"We realized that among our students, we had several talented people who wanted to go on to attend graduate school in conducting," said Carter. "Following the class, we created an internship through the school that would give them the opportunity to assist in the ensembles. All of the hands-on experience we can give these students is valuable."
That fall, after writing a proposal and receiving approval from the provost, Nielsen and Pence began an internship serving as the primary conductors of Bella Voce, the university women's choir, and assisting Carter with Concert Chorale.
"I'm so grateful for this opportunity because it does not happen at most other schools," said Pence, who also conducts the Buena Vista Virginia Institute Choir. "Generally, certain talented students might be overlooked because there are so many students that you're just a number. Here, people see you as an individual. And because they know you as an individual, they are willing to help you with your educational goals."
Carter said that though the interns are undergraduates themselves, she thinks they are excellent conductors for their students.
"I supervise their teaching and have observed that they have excellent class control and that the students respect them and work with them diligently," said Carter. "I feel that they are accomplishing all of the things that I would expect of a choral conductor."
Members of Bella Voce said that they love working with Nielsen and Pence and that their experience in the women's choir has been rewarding. Some students said that working with the two interns has motivated their decision to stay in the women's choir for a second year, even while they are participating in other choirs simultaneously.
"I really like the emotions we can draw from the music and the ability of the conductors to help us find the true meaning of the music," said Mary Derby, a sophomore from Yorktown Heights, N.Y., who is in her third semester as a member of Bella Voce. "I decided to stay in the choir to continue working with Nate and Kyle and also because there's something about a women's choir that helps you to reach a level of understanding with one another and with the music and the conductors."
Choir members also said that they appreciated the two interns' enthusiasm and ability to relate to students. Carter expressed similar sentiments, saying that Nielsen and Pence have grown in their ability to manage a class.
"Many students come out of choral preparation courses and are technically very good, but they haven't learned that personal relationships are necessary in order to establish, manage and direct a program and keep students engaged in learning," said Carter. "It takes more than just musical ability to handle an ensemble. I've seen that both interns have grown a great deal in that particular area."
Nielsen said that learning the administrative aspects of running an ensemble has been greatly beneficial to him and that he has grown in more ways than he would have expected.
"The experience has been invaluable," said Nielsen. "It's been a really great environment for growth for us and for the choir members. I've grown as a teacher, as a conductor, as a leader and as a priesthood holder. This internship has helped shape what I'm going to do for the rest of my life."
Pence said that directing Bella Voce has given him valuable conducting experience and developed his musical ability in ways that would not have been possible without the internship.
"Having the chance to conduct a choir makes a big difference," said Pence. "Theory is one thing, but having the opportunity to physically conduct a choir makes the learning curve exponentially sharper. There are some things you don't learn in a classroom that you learn actually being in front of a choir. That's the only way you can truly hone your conducting ability. I've had that chance and it's been wonderful."
In addition to their experience in conducting and class management, Carter said that she has seen as one of the most important expansions of Nielsen and Pence's musical knowledge, that they have increased their familiarity with musical repertoire.
"They have had an opportunity to sit down with a large amount of literature and select that which would be appropriate for the women's choir," said Carter. "And they've made connections with other conductors who also conduct women's choirs in the area. I think the exposure to repertoire resources has been of great benefit to both of them because now they know where they need to go to select appropriate music."
Both Nielsen and Pence said that they have greatly appreciated the opportunity to work so closely with and learn from Carter through their experience as interns.
"Dr. Carter has a wealth of knowledge and experience," said Pence. "She is incredible. When we come to her, she's always willing to teach. She knows what works, what audiences like, how to teach and how to connect with a choir."
Additionally, Nielsen and Pence have had the opportunity to intern with Dr. Clayne Robison, visiting professor of music at Southern Virginia who previously directed the opera program at Brigham Young University for more than 20 years, as teaching assistants in his group voice instruction courses.
The university's music program also provides opportunity for students to gain experience in orchestral conducting, as well as music theory instruction. Several students have already completed, or are currently involved in these internships.
Though Nielsen and Pence will graduate this year, Carter is confident that interested students in the advanced conducting class next semester will take advantage of the opportunity to gain needed experience for graduate school and a future career in conducting. Nielsen said that he hopes the program will continue, and that laying the foundation for future interns, as well as serving those whom he conducts, are his favorite aspects of the internship.
"I'm having a positive impact in the classroom that helps our students come to love music and each other as well as grow spiritually and personally," said Nielsen. "This is the one profession in music that fits my skill set best. I can serve and do well, and also stay true to my values and be an example of a Latter-day Saint. Choral music is set in a sacred history; you're just able to have an effect on people that I haven't been able to find anywhere else in the music world."
Brianne Ramelli, a sophomore from Reno, Nev., in her third semester as a member of Bella Voce, said that choosing to participate in the women's choir is one of the best decisions she has ever made.
"I've appreciated how much we learn about everything involved in music and how to sing chorally," said Ramelli. "And the conductors are amazing. They just really know how to connect with everyone and help everyone grow individually even though they're talking to the whole group. They're just really good at doing what they do."