Archived
"The Wizard of Oz" As You've Never Seen It, Sept. 9-10, 15-17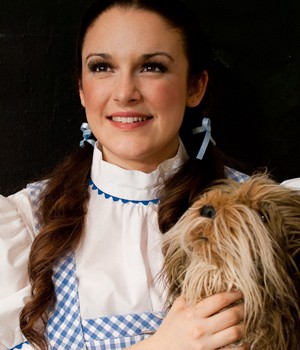 A humorous twist on a beloved film classic, "The Wizard of Oz," is adapted for the stage and will premier at Southern Virginia University on Friday and Saturday, Sept. 9 and 10, and the following Thursday, Friday and Saturday, Sept. 15–17, at 7:30 p.m. in Chandler Hall.
"Not a word of the script has been changed," said Robert Stoddard, the show's director and associate professor of theatre at Southern Virginia. "But taking our inspiration from Monty Python, we're investigating the humorous potential in this iconic work."
With only nine actors playing the 200 plus parts in the movie, the potential for comedy is even greater.
"Though there will be pratfalls and quick costume changes, all of the familiar characters and situations are still lovingly portrayed," said Stoddard. "Children will love the musical and adults will laugh at the comic slant we're taking."
The show is adapted from the bestselling 1939 MGM motion picture of the same name — which, according to the Library of Congress, has been seen by more viewers than any other movie. The film is based on the book, "The Wonderful Wizard of Oz," by L. Frank Baum, with music and lyrics by Harold Arlen and E.Y. Harburg and background music by Herbert Stothart. The musical's book was adapted from the motion picture screenplay by John Kane.
"This production is especially unique because the actors are directly involved in the creative process," said Kaitlin Cluff, a senior theatre major from Greensboro, N.C., whose primary role in the show is the Wicked Witch of the West. "We're all experimenting and working together to take this childhood classic and make it funnier. We're making jokes, but we're not disregarding the message of the Wizard of Oz. Being able to pay tribute to such iconic actresses and actors is an honor."
The Wizard of Oz opens Friday, Sept. 9, at 7:30 p.m. in Chandler Hall. Tickets for the show are $8 for the general public and $6 for senior citizens and Southern Virginia students, faculty and staff. Tickets can be purchased at the door prior to the performance or by calling 540–261–8405.