Archived
Survey: Student Satisfaction High for Academics and Student Services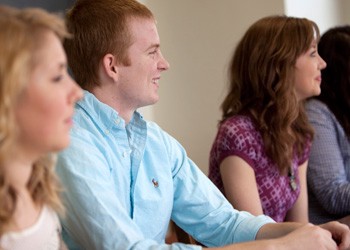 In nearly every category from academic advising to the availability of financial aid, Southern Virginia University students express higher levels of satisfaction on a national survey than students at private colleges nationally.
According to the widely used Noel-Levitz Student Satisfaction Inventory, which the university administers annually, Southern Virginia students also are, on average, more satisfied that tuition paid is a worthwhile investment than students at other private four-year universities. Southern Virginia students also are more likely than students at national private four-year universities to say that they would enroll in their school again if they had the choice.
"We're very pleased with this year's results," said Dr. John Armstrong, the university's associate provost and chair of the Institutional Effectiveness Committee. "Not only do we surpass the averages for national private four-year institutions in almost every category, but the level of student satisfaction has increased over last year's strong results, indicating that Southern Virginia continues to improve its academic and student support services."
Overall, the results keep getting better from year to year. The three items scoring highest in importance and satisfaction over the past two years have been the expertise of the university's faculty, the student's ability to experience intellectual growth at Southern Virginia, and the quality of classroom instruction.
In this fall's survey, 89 percent of students surveyed said that Southern Virginia had met or exceeded their expectations, compared to 82 percent in 2010, 85 percent in 2009, and 81 percent in 2008. Some of the greatest improvements in student satisfaction from last year include the safety and security of the campus, the number of weekend activities, and the accuracy and speed of the Registrar's Office in evaluating transfer credits.
The survey, completed by over half of the fall semester student body, measures both the level of student satisfaction with campus services and the degree to which students think these services are important. The largest gap between Southern Virginia and other universities is that Southern Virginia students are more satisfied that residence hall staff members care about them as individuals.
"These survey results complement what we have learned from other assessments," said Armstrong. "For example, last year's Collegiate Learning Assessment showed that Southern Virginia ranks in the 93rd percentile nationally for what it does to improve a student's ability to write critically and persuasively. Our students value intellectual growth, and there is concrete evidence that they receive that here."