Archived
Southern Virginia University Holiday Events 2011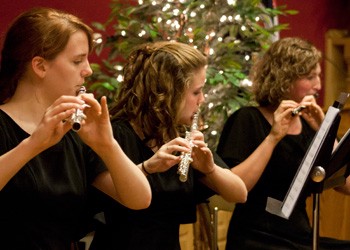 Enjoy the sights and sounds of the holiday season at Southern Virginia University with a host of traditional events to ring in this festive time of year.
The university invites members of the community, along with Southern Virginia students, faculty and staff, to celebrate together through music, dance, holiday treats and a visit with Santa Clause. Unless otherwise noted, all events are free.
Southern Virginia University Community Christmas Open House
Warm up after the Buena Vista Christmas parade with hot cocoa, treats and holiday entertainment. Bring your children to visit with Santa.
Thursday, Dec. 1, following the 7:00 p.m. Buena Vista Christmas parade, Ballroom
Southern Virginia University Flute Choir Concert
Listen to the Flute Choir perform traditional classical selections as well as Christmas favorites.
Friday, Dec. 2, 7:30 p.m., Ballroom
Shenandoah Academy of Dance Ensemble Presents "The Nutcracker"
Come see the Shenandoah Academy of Dance Ensemble's performance of this timeless classic. The first full-length production of "The Nutcracker" debuted in the Rockbridge County area last December at Southern Virginia University under the direction of Missy Floyd, adjunct instructor of dance at the university. The performance will feature dancers from the ensemble, Southern Virginia students and other community members.
Saturday, Dec. 3, 2:00 p.m. and 7:00 p.m., Performing Arts Center

General Admission $10 in advance, $12 at the door; Students $5 in advance, $6 at the door
Southern Virginia University Christmas Devotional
Attend a Christmas devotional by Becky Douglas, founder of Rising Star Outreach, an organization dedicated to helping Leprosy colonies become thriving, self-sufficient communities.
Friday, Dec. 9, 11:00 a.m., Stoddard Center
Southern Virginia University Christmas Concert
Enjoy a concert featuring Bella Voce, Concert Chorale, the Orchestra, Flute Choir and the Dance Company in a wide variety of Christmas and holiday music.
Friday, Dec. 9, 7:30 p.m., Performing Arts Center