Archived
Southern Virginia to Add Softball Field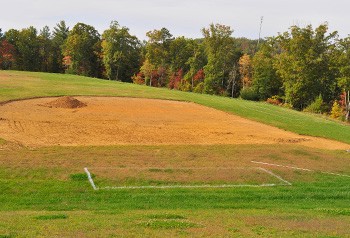 Southern Virginia University Acting President Richard G. Whitehead has announced plans for the construction of a softball diamond on one of the university's three athletic fields.
"Softball has been one of our most successful athletic programs over the years and it will be very rewarding to watch our scholar-athletes practice and compete on a softball field of their own," said President Whitehead.
Construction on the diamond began in late August and Southern Virginia's administration expects the field, which will feature a backstop, dirt infield, bases, permanent outfield fencing, home and opposing dugouts, and a press box, to be completed and ready for competitive play as early as spring 2012.
Future plans include the addition of an electronic scoreboard, home and opposing bullpens, outdoor batting cages and restroom facilities.
Senior Women's Athletic Administrator Deidra Dryden, who coached Southern Virginia's softball team from 2000–2004 and remains the program's all-time winningest coach, explained that construction of the university's first softball field has been made possible by donations from program alumni and supporters.
The most significant donation came from Brett and Carol Harvey, whose daughters Natalie Harvey-Marquez and Trisha Harvey-Jones both played softball at Southern Virginia for Coach Dryden.
"Brett and Carol were supportive parents and their daughters were ideal scholar-athletes," said Dryden of the Harvey family.
Natalie Harvey-Marquez played first base, third base and pitcher for Dryden from 2000–2003 helping Southern Virginia softball to a runner-up finish at the NSCAA national tournament in 2000 and earning honorable mention all-American honors as a junior in 2002.
Following her standout Southern Virginia playing career, Harvey-Marquez served as Dryden's assistant coach during the 2004 season when her sister Trisha was a member of the Knights softball team.
"I never thought of myself as a coach until Deidra asked me to help out after my senior season," recalled Harvey-Marquez. "But I had such a great experience at Southern Virginia, that coaching became a way from me to reach out to others so they could also benefit from the university." That year, Dryden and Harvey-Marquez led softball to a 20–15 record and third-place finish at the USCAA national tournament.
Following the 2004 season as Dryden's assistant, Harvey-Marquez became Southern Virginia's head softball coach and guided the Knights to another third-place finish at the 2006 USCAA national tournament in only her second season.
When Harvey-Marquez's husband graduated from Southern Virginia that spring, she returned to her native Utah where she became a pitching coach for Bingham High School in South Jordan. Bingham softball has been a top-five finisher at Utah's 5A state tournament every season since Harvey-Marquez joined the program in 2007, including three consecutive State Championships from 2008–2010.
"Attending Southern Virginia and playing softball was such a positive experience for Natalie that it propelled her to become involved in coaching, teaching and helping young people," said Harvey-Marquez's mother Carol Harvey. "My husband and I thought a softball field would be a way to help provide that same experience for other girls. We feel fortunate to be in a position to help the school in this way."
Since its first season in 1999, Southern Virginia softball has played home games on one of two Buena Vista city parks — Glen Maury Park and Laurel Park.
"In 2001, our team went down to Glen Maury and built an outfield fence out of PVC pipes and orange construction netting," recalled Dryden. "Natalie was a part of that team and helped build that fence. Now Natalie and her family are helping to build a field that will serve our university and community for many years to come."