Archived
Southern Virginia Presents "Man of La Mancha" May 27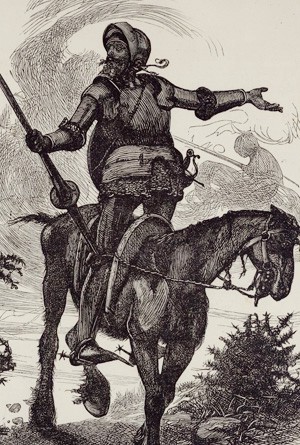 The Southern Virginia University theatre program will present "Man of La Mancha" on Friday and Saturday, May 27 and 28, and the following Thursday, Friday and Saturday, June 2–4, at 7:30 p.m. in Chandler Hall.
"Man of La Mancha" features the award-winning song, "The Impossible Dream." The musical has a book by Dale Wasserman, music by Mitch Leigh and lyrics by Joe Darion.
Wasserman loosely based the musical on Miguel de Cervantes' legendary novel, "Don Quixote." The show tells the story of Cervantes, who waits in prison to be tried by the Spanish Inquisition. When the other prisoners steal his manuscript about Quixote, Cervantes attempts to win it back by presenting scenes from the novel in the form of a play — with himself as Quixote and the rest of the prisoners in other roles.
"The rest of the show details the heart-felt story of Quixote's idealism in the face of reality," said Robert Stoddard, the show's director and theatre program coordinator. "The musical never fails to deeply move audiences. It was a six-year smash hit on Broadway."
Southern Virginia's production will feature Dr. Clayne Robison — accomplished soloist who previously directed the opera program at Brigham Young University for 20 years — in the title role. In addition to his opera experience, Robison has dedicated a large part of his career to teaching less skilled students how to sing beautifully. Included in this effort, he has written books, taught workshops, and founded a website dedicated to teaching beautiful singing.
"I love this role," said Robison. "I identify with trying to accomplish the impossible; my determination that everyone in the world can sing beautifully is part of that."
Additionally, Robison said that "Man of La Mancha" communicates what Southern Virginia University represents and that he thinks audience members will benefit from the show's message.
"It allows the students to really speak what they believe, that there is good in the world," Robison said. "I hope audiences will receive a renewed vision for one another: that our better selves are the ones that we really are, that we can look positively at each other and at the future. The show has some wonderful lines like, 'never condemn before thou knowest' and 'always see good in preference to evil.'"
Jessica West, a junior from Corona, Calif., plays the role of Don Quixote's niece, Antonia. She said that she appreciates the opportunity to be in this noteworthy musical.
"I love the show," She said. "It has a beautiful message and I think that everyone in the cast has a lot to offer. It's given me more experience to work with Professor Stoddard and Dr. Carter and see how I can help execute their vision."
The show opens Friday, May 27, at 7:30 p.m. in Chandler Hall. General Admission is $8. Admission for senior citizens, students, faculty and staff is $5. Tickets will be available at the door prior to each night's performance and also can be purchased through Southern Virginia student financial services at 540–261–8405.