Archived
Southern Virginia Celebrates Largest Graduating Class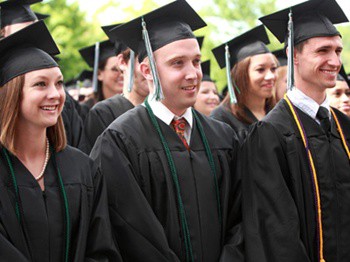 More than 900 people gathered in front of historic Main Hall on a perfect Saturday morning to celebrate the graduation ceremony of 128 Southern Virginia University students — the largest graduating class since the university was revitalized and adopted an LDS spiritual environment 15 years ago.
Elder Nolan D. Archibald, a member of the Sixth Quorum of the Seventy of The Church of Jesus Christ of Latter-day Saints and executive chairman of the board of Stanley Black & Decker, Inc., was the commencement speaker and received an honorary doctorate in the humane letters.
"You are graduating from a rather remarkable institution," Elder Archibald said. "When you look at the size of your student body, the 15 short years that this university has been in existence, what you've accomplished in sports, academics and the arts, the quality of your faculty and especially the quality of the students, Southern Virginia University is a modern day miracle."
Elder Archibald reminded the graduates and those in attendance that every person on this earth has been endowed with enormous potential. If we receive a good education and are willing to work hard enough to achieve our goals, we can become and do anything we want.
"Each of us has different talents," he said. "But intellectually, each of you has the capacity to accomplish almost anything that you will set your heart on if you're willing to put forth the essential effort."
Senior Class President Jordan Sorensen, from Poway, Calif., announced that the senior class gift is a new sign and a renovated room for the recently designated Fawson Alumni House. This, he said, would serve as both a service and an example to future graduates of Southern Virginia.
The commencement exercises also included the commissioning of graduates Russell Burton and Jacob Johnson as officers in the United States Army. Both participated in the ROTC program affiliated with the Virginia Military Institute and took the oath to become second lieutenants in the army. Johnson will attend an officer training course beginning this month and running through September, and will then be stationed in Germany for three years.
Three graduating seniors spoke during the ceremony — valedictorian Peter Olson, salutatorian Mary May and senior speaker Katrina Bagley Brown, who auditioned and was selected by her classmates to speak. All three speakers graduated from Southern Virginia in three years and each majored in two subjects.
In her remarks, salutatorian May, from Mesa, Ariz., said the core liberal arts curriculum at Southern Virginia helped her discover her identity as a lover of learning.
"I have always had a great desire to learn and to serve others," she said. "My education and experiences at Southern Virginia have helped this desire to grow into action. My time [here] has helped me to become who I already was, a lover of learning. I now have a path to follow as I continue to shape my own destiny and identity."
Bagley, a Marriot Scholar from Fort Collins, Colo., said the enthusiasm her professors displayed in their teaching is what sets Southern Virginia apart from other universities and convinced her to choose to finish her degree here.
Quoting Ralph Waldo Emerson, Bagley said, "Enthusiasm is the mother of effort, and without it, nothing great was ever achieved." She attributed the success and growth of Southern Virginia to the enthusiasm Emerson described.
"Because of the enthusiasm of those who work for Southern Virginia, this university has grown dramatically in only 15 years of operation. Something great has been achieved here because of commitment, effort and enthusiasm," she said.
Valedictorian Olson, from Lake Orion, Mich., said he believes the experiences and education the graduates gained at Southern Virginia formed them into better people who are more prepared for tackling problems and solving the issues of the "real world."
"As we prepare to move on," Olson said, "let us remember the positive changes that our education has caused in us. Today, we should not be the same as when we came to Southern Virginia . . . Remember: We can do hard things; we can make a difference; we can lead; and we can serve.