Archived
Regional Accreditation Committee Visits, Finds No "Recommendations"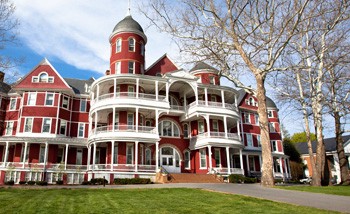 An accreditation committee from the Commission on Colleges of the Southern Association of Colleges and Schools visited Southern Virginia University for three days last month to evaluate the university's application for full regional accreditation.
The nine-member committee was comprised of higher education professionals, including a university president, who work at regionally accredited institutions that are similar to Southern Virginia in terms of their size, culture and liberal arts curriculum.
The committee's responsibility was to evaluate a 256-page single-spaced compliance narrative and 645 supporting documents numbering thousands of pages and decide whether, in their opinion, the university complies with the Commission's standards.
"At the conclusion of their visit, the committee chair complimented the students, faculty, staff and administration on how we hosted the team and responded to requests for information," said Dr. Richard G. Whitehead, acting president of Southern Virginia University. "The committee expressed admiration for the university's focus, vision and commitment to the principles of accreditation. They indicated that their written report will contain no formal recommendations to which the university must respond — something we understand to be quite rare."
The findings of the visiting committee represent a preliminary assessment of the institution at this time; final action on the report rests with the Commission on Colleges. Southern Virginia's application for regional accreditation will be considered and a decision will be announced at the June 2012 meeting of the Commission's trustees.
The former Southern Virginia College was regionally accredited until 1996 when declining enrollments and lackluster financial statements led the Commission to revoke the college's accreditation. It was this event that helped usher in a new board of trustees and the adoption of a mission to serve the Latter-day Saint community. In 2001, the name of the institution was changed to Southern Virginia University. Seven years of overall strong financial performance, along with many other factors, have brought the university to the point that it can reapply for regional accreditation.
Following a visit from a candidacy committee in February 2010 Southern Virginia University was granted candidacy with the Commission on Colleges in June 2010. The university is nationally accredited by the American Academy for Liberal Education and is certified to operate and grant baccalaureate degrees by the State Council of Higher Education for Virginia.
"The process of preparing our application has helped us to assess and fortify the outstanding education we offer at Southern Virginia," said Provost Madison Sowell. "I am very pleased with how the visit went and express my heartfelt gratitude, along with President Whitehead, to all those who worked tirelessly to prepare for this momentous visit. Now, we shall wait and hope for good news in June."