Archived
President Smith Announces Departure, Will Join Board as Co-Chair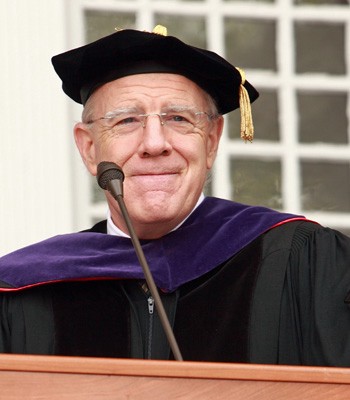 Southern Virginia University President Rodney K. Smith today announced to assembled students, faculty and staff members that he will resign his position as president in late August.
President Smith will remain at the helm of the university until its application for full regional accreditation is submitted to the Southern Association of Colleges and Schools Commission on Colleges. That body granted candidacy status to the university in 2010. In the fall, Smith will become a distinguished professor of law at the Thomas Jefferson School of Law in San Diego, where he also will direct a new center on athletics and the law.
"The university is in the strongest position it has ever been in," President Smith told students, faculty and staff today. "The man or woman who will be your next president is walking into a great opportunity."
In a telephone conference call earlier this week, the university's board of trustees elected Smith to the board and also appointed him co-chair along with Glade Knight, who has served as chair of the board since 1996. Smith will begin his new role as a trustee and as co-chair when he leaves his post as president.
"I look forward to serving the university in this new capacity," Smith said. "I will remain very much a part of the Southern Virginia family and will work, as assigned, to continue our efforts to become better known and to help raise money for scholarships and other needs."
The board of trustees has organized a search committee to initiate a full search process.
"We will immediately begin a search to find the right person to build on the significant contributions President Smith has made to the university," said Jim Skeen, the university trustee who was appointed chair of the presidential search committee. "We are confident that we will find the right candidate to help lead Southern Virginia into the future, building on the success of President Smith and the entire faculty and staff. If we have not completed the search process before President Smith's departure, the board of trustees will appoint an interim president."