Archived
Poisoned: Professor Benedict's New Book Recounts Deadly E. coli Outbreak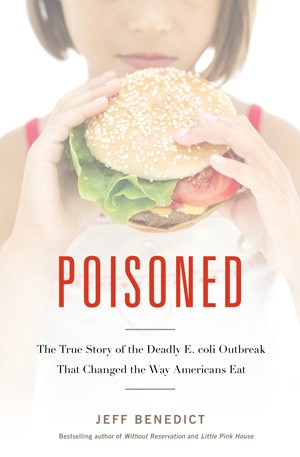 Southern Virginia University Distinguished Professor of English and best-selling author Jeff Benedict's new book, "Poisoned: The True Story of the Deadly E. coli Outbreak that Changed the Way Americans Eat," goes on sale next week.
According to Benedict, he conducted over 250 on-the-record interviews and researched thousands of pages of documents to find the behind the scenes account of the deadly 1993 E. coli outbreak that resulted from undercooked hamburgers at the fast-food chain Jack in the Box.
Benedict chose this case after speaking with Bill Marler, a lawyer who represented victims of the Jack in the Box outbreak.
"I realized that this case has had an enormous significance on a lot of the policy surrounding food safety today," said Benedict. "It started with this case."
The outbreak caused severe illness in hundreds of children across the country and killed four. Beyond that, Benedict's book tells the story of Marler's fight for food safety and the Jack in the Box executives who devised new industry safety standards that went beyond those of other restaurant chains.
According to Kirkus Reviews, "[Benedict], who holds a law degree, fashions the book like a police procedural, keeping the beat with quick cuts to the major players — parents waiting by their dying children's bedsides, lawyers and corporate executives. With accounts of his firsthand interviews and observation, Benedict provides a powerful reminder that food safety is a matter of life and death."
Benedict said that he chose to write on the Jack in the Box outbreak because it was a "blockbuster story" that contained characters that were "colorful and compelling." Though his primary goal was to write an intriguing story, he also hopes that, because of the nature of the story, readers will think more seriously about their food choices.
"My goal was to write the best story I've ever written," said Benedict. "In this case, it's fortunate that the story is about something that surrounds all of us. Everybody eats every day. As a parent, your kids eat what you buy. If you're not picking carefully, they could suffer the consequences."
Poisoned is published by Inspire Books. It is available at the university bookstore and on Amazon.com.