Archived
Men's Basketball Team Wins USCAA National Championship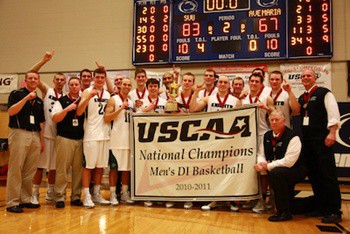 The Southern Virginia University men's basketball team defeated Ave Maria 83–67 Saturday evening claiming, its first ever USCAA Men's Division I National Championship.
The title game between Southern Virginia and Ave Maria was evenly matched early on with six tied scores and three lead changes during the opening 15 minutes of action.
With the score knotted at 25-all and 5:01 remaining in the first half, Southern Virginia closed out the period on an 11–3 run and entered the locker room with a 36–28 advantage.
The Knights carried their momentum through halftime and outscored Ave Maria 18–7 over the first 7:40 of the second half to make it 57–35 at the 12:20 mark.
Ave Maria slowly chipped away at its deficit over the next ten minutes of play coming within 12 points of Southern Virginia three separate times, but the Gyrenes would come no closer as clutch free-throw shooting down the stretch sealed the victory for the Knights.
While both teams ended the game at 43.6 percent from the field, Southern Virginia went 9-for-22 from behind the arc compared to Ava Maria's 3-for-15 three-point shooting.
The Knights committed a season-low five turnovers in the championship game.
Freshman Anders Jacobson led the way for Southern Virginia with 20 points while sophomore brother Isaac Jacobson scored 18 on 6-for-10 shooting, including 4-for-6 from three-point range.
Senior Derek Cutler tied a career-high with 17 points to go along with his team-high nine rebounds in his final game as a Knight.
All-American junior Spenser Briggs scored ten points and pulled in seven rebounds in the victory and was named to the All-Tournament Team.
Anders Jacobson was awarded Tournament MVP after averaging 19 points per game for the week.
Southern Virginia's national title completes a storybook season which saw the Knights set program records for wins (24), consecutive wins (8), winning percentage (.750) and home dominance (8–0).