Archived
Jericho Road to Give Devotional Oct. 21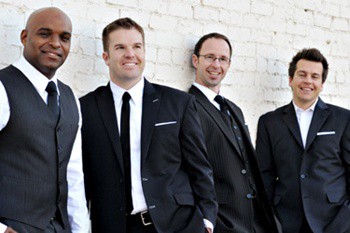 The band Jericho Road will give a musical devotional on Friday, Oct. 21, at 11 a.m. in the Stoddard Center at Southern Virginia University.
Band members Abe Mills, Bret Bryce, Dave Kimball and Justin Smith, an admissions counselor at Southern Virginia, met while attending Brigham Young University where they performed in the Young Ambassadors.
They formed the band Jericho Road in 2001. Their self-titled debut release broke all sales records for their label, Shadow Mountain, selling over 10,000 copies in its first week. They have now sold nearly 150,000 album recordings. They recently released their sixth album, "Day of Rest," a praise and sacred music recording.
Jericho Road has worked in conjunction with many award-winning songwriters and musicians, including Steve Siler, Lowell Alexander and Scott Kripayne. The band has won numerous awards, including the 2003 Listeners Choice Award for Album of the Year and Group Artist of the Year and a 2003 Pearl Award for Performing Artist of the Year and Contemporary Recording of the Year.
Jericho Road has performed across the country and on several international tours. In 2003, the group was asked to sing the National Anthem at the 100th anniversary of the first World Series at Dodgertown Sports and Conference Center in Vero Beach, Fla.
Community members and Southern Virginia faculty, staff and students are invited to hear forum and devotional speakers each Friday morning at 11 a.m. in the Stoddard Center. Recordings of past forum and devotional speeches may be accessed online.