Archived
Elder Nolan D. Archibald Encourages Class of 2011 to Set Goals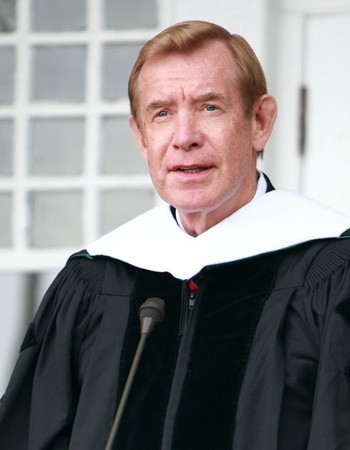 Elder Nolan D. Archibald, a member of the Sixth Quorum of the Seventy of The Church of Jesus Christ of Latter-day Saints and executive chairman of the board of Stanley Black & Decker, Inc., was the commencement speaker at Southern Virginia University's graduation ceremony Saturday.
Welcomed by more than 900 people including 128 graduates — the largest graduating class since the university adopted an LDS-centered mission in 1996 — Elder Archibald instructed the class of 2011 to set and achieve goals throughout their lives.
Elder Archibald, who received an honorary doctorate in the humane letters during the commencement ceremony, reminded the graduates and those in attendance that every person on this earth has been endowed with enormous potential.
"Each of us has different talents," he said. "But intellectually, each of you has the capacity to accomplish almost anything that you will set your heart on if you're willing to put forth the essential effort."
He encouraged the graduates not to minimize or limit their potential, warning them that although they will experience setbacks, discouragements and even failures, how they respond during those times most often determines success or failure.
Though neither of his parents graduated from high school — his father was an electrician and a plumber and his mother a cook, both for Ogden City schools — Elder Archibald's parents taught him that he could become and do anything he wanted if he received a good education and was willing to work hard enough to achieve his goals.
As a high school student, Elder Archibald said he barely maintained a 2.0 GPA and was cut from his high school basketball team three years in a row. After returning from his mission, however, he set goals to play college basketball and earn a master's degree in business administration.
Through concerted effort and determination, he graduated from Weber State University, cum laude, where he was named Scholar Athlete of the Year. He was an All-Conference basketball player and played in Weber State's first NCAA basketball tournament. He was one of 15 Division I basketball players in the country to earn Academic All-American Honors and went on to earn an MBA from Harvard Business School.
At the age of 42, Elder Archibald was appointed President and CEO of Black & Decker — the youngest CEO of a Fortune 500 Company at the time. He has been cited by Business Week as one of the top six managers in the United States and by Fortune magazine as one of the country's "ten most wanted" executives.
In connection with these achievements, Elder Archibald outlined five fundamental principles he believes are important factors of achieving goals in one's life: 1, Believe in your potential; 2, Focus — have a clear understanding of what you want to achieve and don't get sidetracked with other things; 3, Develop a plan — an effective plan gives one the right education, experience and background to do what you want to do; 4, Work hard — be persistent in pursuing your goals; 5, Keep a proper perspective and balance of what are the most important priorities in your life — family, the Church, career and community service, in that order.
"Whether it's a gangly, Utah high school kid with a lackluster record and big dreams or a Southern Virginia University graduate, these same principles can help you achieve both your professional and personal goals in life," he said.