Archived
Christopher Richardson Appointed Director of Library Services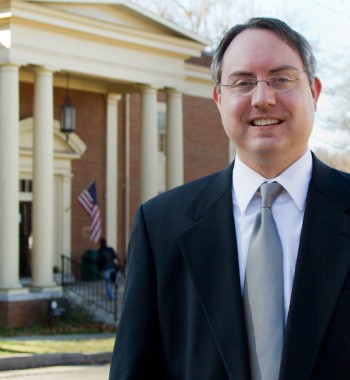 Southern Virginia University Provost Madison U. Sowell announced the hiring of Dr. Christopher Richardson as the new director of library services at the university's Von Canon Library.
"Following a national search that included a review of many solid candidates, I am delighted to announce the appointment of Dr. Christopher Richardson as the new director of library services," said Provost Sowell. "I would like to express my appreciation to all those who made nominations and provided input in the selection of our new library director."
Richardson joined the staff at Southern Virginia in 2007 as public services librarian and later served as instructional services librarian. He also serves as an adjunct instructor of information literacy at the university. Previously, he worked as a public librarian in Staunton, Va., and as a curriculum design specialist in Richmond, Va.
He received a bachelor's degree in American studies from the College of William and Mary and a master's degree in library and information studies from the University of North Carolina–Greensboro. He also received both a master's degree and a doctorate in education from Union Theological Seminary in Richmond, Va.
He has published articles in a number of peer-reviewed journals and popular magazines including Journal of Adult Theological Education, Journal of Beliefs and Values, Religious Education, Christian Education Journal, Virginia Libraries and Revista Educador.
He lived in Brazil for eight years and speaks fluent Portuguese. He and his wife, Martha, have one son and currently reside in Buena Vista, Va.