Archived
Art Show Raises Money, Lifts Spirits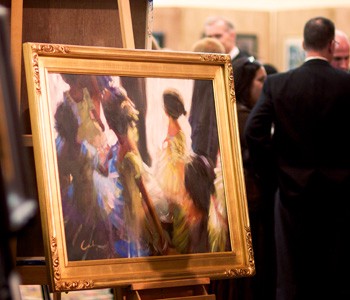 A feast of food, art and music enriched lives and raised scholarship dollars for students at Southern Virginia University.
Nearly 300 guests attended the 8th Annual Shenandoah Invitational Art Show, hosted by Richard and Nancy Marriott on October 27 at the Fairview Park Marriott Hotel in Falls Church, Va.
"This show continues to be a premier fine and performing arts event netting nearly $30,000 for scholarships and other arts programs," said Southern Virginia Acting President Richard G. Whitehead.
Attendees enjoyed an evening of beautiful artwork, a delicious dinner, excellent company and musical entertainment. Nancy Marriott gave a special performance singing a variety of numbers from Z. Randall Stroope's "When I Have Sung My Songs to You" to the lively "Come to the Fair" by Easthope Martin. Additionally, David Taylor, a music major at Southern Virginia University played a Liberace-Gershwin medley and, as is tradition at the art show, the Southern Virginia Concert Chorale performed several numbers including "Shenandoah."
Many of the show's artists were in attendance, including, Walter Rane, Jennifer Babcock, Glen Bellamy, Laura Erekson, Carrie Brotherson, Rose Datoc Dall, Ann Elizabeth Gedicks and Doug Himes. Many others, most notably the Lieutenant Governor of Virginia Bill Bolling and his wife Jean Ann, and Richard and Nancy Marriott attended this year's art show.
"This is a great chance to purchase a magnificent painting and also benefit Southern Virginia," said President Whitehead. "A portion of every purchase goes toward university scholarships."
Those interested in purchasing a painting should call Allison Page at 540–261–2782 to make purchase arrangements.