Archived
2011 Valedictorian and Salutatorian: Examples of Excellence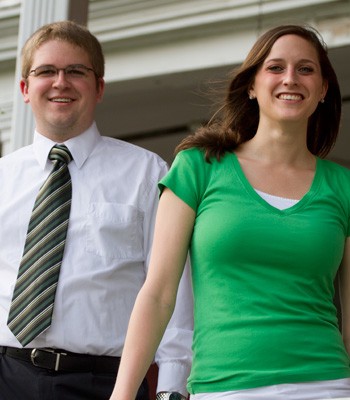 Southern Virginia University's 2011 valedictorian and salutatorian exemplify excellence in academics and extracurricular pursuits.

Peter Olson, the valedictorian, is the member of the class of 2011 with the highest academic standing — determined by his grade-point average. Mary May, the salutatorian, is the student with the second highest academic standing. Traditionally, the salutatorian gives the first speech at commencement, or the salutation, and the valedictorian gives the final, farewell speech from the graduating class — the valediction.
Peter Olson, a music and liberal arts major from Lake Orion, Mich., plans to pursue a graduate degree in musicology next year and has been accepted to Claremont Graduate University. He graduated from Southern Virginia in three years, taking a two-year hiatus after his first year to serve in the Russia Novosibirsk Mission of The Church of Jesus Christ of Latter-day Saints. Olson said he has enjoyed his time at Southern Virginia, especially the opportunity to take classes in diverse subjects — evidenced by his double major and chemistry minor.
"I've taken a wide variety of classes," Olson said. "I've really enjoyed any class that challenges me and helps me to learn about the world or how things work."
Additionally, Olson said he is grateful for the opportunities for growth beyond the classroom experience.
"I've grown a lot just because there are so many opportunities, both curricular and extracurricular," he said. "I've had to stretch myself and develop a lot of talents that I didn't even know I had. I've grown more ways than just academically, I've had opportunities to serve and lead in various roles."
According to Launa Whitehead — assistant professor of music who has taught Olson in several music history courses — Olson stands out in the classroom.

"He exemplifies what we'd like all music majors to be," she said. "He is bright, talented, responsible and congenial; he understands concepts very quickly and can apply them in ways that are refreshing and even new. He is certainly one of the best students I've ever had in my classes."
Whitehead also has experience with Olson outside of class, including when her husband served as Olson's bishop and last semester when Olson conducted the Southern Virginia flute choir that Whitehead directs so she could play the piccolo in the choir.

"He is personable, fair, non prejudicial, thorough and responsible," she said. "He gives everyone the benefit of the doubt. He is well-rounded and multifaceted. He hasn't just had tunnel vision. He's broadened out in every way possible."
Whitehead said that she is thrilled that Olson will be valedictorian.
"He's very deserving," she said. "Not very often do you find a student that was always there, always on time and the work was excellent. He's self-motivated and he will go places. He just has to decide what he wants and he'll find a way to accomplish it."
Salutatorian Mary May, a liberal arts major from Mesa, Ariz., works in Southern Virginia's student financial services office. She plans to continue working at Southern Virginia for another year while her husband completes his degree. She said she has grown at Southern Virginia through the combination of academics and a Latter-day Saint environment.
"I've been challenged academically, which is a good thing," she said. "And the spiritual atmosphere really keeps me on my toes. It helps me to have that influence."
Dr. Francis MacDonnell, professor of history, taught May in three history classes and said that he thinks she is a superb student. He said that he was impressed by her the first time she took a class from him.

"She modeled what it means to be an engaged, intellectually alive person," he said. "Her answers were always incredibly lucid, economical and informed by the reading, but also by a kind of capacity to think independently. She has a kind of unusual generosity and modesty."
Additionally, he said that May didn't just focus on herself, but willingly served others.
"One thing that was really striking about her in class was that there were several students who were really struggling with the reading and she volunteered on her own to help them through," MacDonnell said. "She didn't leave them on the mountain; she helped them."
MacDonnell was May's faculty mentor for a paper she presented on Jimmy Carter's human rights policy in Argentina, Saturday, April 16, at the Big South Undergraduate Research Symposium hosted by the Virginia Military Institute. He said that he thinks May will continue to impress others with her great work wherever she goes.