Archived
2011 Service and Teaching Award Recipients Announced
At the last devotional of the year, Southern Virginia University Provost Madison U. Sowell announced the recipients of the 2011 Ed and Chieko Okazaki Distinguished Service Award and of the newly established Michael and Kay Elton Lectureship for Outstanding Teaching and Scholarship Award.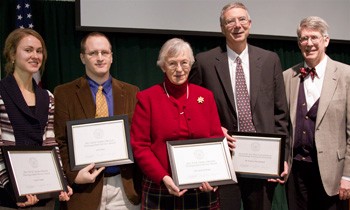 The Okazaki award for distinguished service, now in its fifth year, is given annually by surprise announcement to representatives of Southern Virginia's student body, staff and faculty. This year's recipients include Cassie Cooper, a senior from Kelso, Wash.; Art Furler, information technology support manager; and Dr. Gertrud Kraut, associate professor of mathematics. Nominations for award recipients were opened up to all Southern Virginia students, faculty and staff.
The recipient of the 2011 Elton Award is Dr. Francis MacDonnell. The award, established this year by Michael Elton, a member of the board of trustees at Southern Virginia, honors a member of the faculty who has demonstrated outstanding teaching and scholarship. The recipient of the award will deliver a formal address in a forum during the coming spring semester. In addition, the award carries with it a $5,000 stipend.
One of the Okazaki award's namesakes, Chieko, who was an author, educator and former first counselor in the Relief Society general presidency of The Church of Jesus Christ of Latter-day Saints, passed away earlier this year. The award also is named in honor of Chieko's husband, Ed, a Japanese-American who served in a highly decorated unit of the U.S. Army during WWII.
This award honors exemplary leadership and service. For student recipients, the honor appears on their permanent transcripts and ranks with valedictorian as the highest distinction afforded to a Southern Virginia University student.
Cassie Cooper

Cassie Cooper, a junior from Kelso, Wash., majoring in liberal arts, is the student executive council vice president of service. She has volunteered with Southern Virginia's annual Red Cross blood drive and has assisted with the Reach Mentor Program at Enderly Heights Elementary School, which pairs mentors to mentees. She organized a weekly Sunday afternoon singing group at the Golden Living Center in Buena Vista, Va., and has volunteered at summer day camps in her hometown.
"As a resident assistant and captain of Southern Virginia's national championship cross country team, she continually works with the administration and the community to create opportunities for service," said Provost Sowell.
Art Furler

Art Furler currently serves as information technology support manager at the university. He has served in this capacity for two years, continually improving his unit's focus to become more efficient, professional and customer-service oriented.
Furler previously served as the customer support manager and technical adviser for a remote website hosting and networking firm, and has worked in the fields of PC repair, network administration, remote web-hosting, electronics repair, custom PC construction, sound engineering and home theater design in various capacities for more than 10 years, including two years as the lead computer technician for a computer repair facility.
"He provides excellent customer service, in part by working all hours of the day and night," said Provost Sowell. "One faculty member reported that Furler came to campus at 10:30 p.m. one night to resolve a technical issue. He cares about each person on his team and continually looks for ways that he can elevate and assist them before he thinks of himself."
Dr. Gertrud Kraut

Dr. Gertrud Kraut is an associate professor of mathematics at Southern Virginia who joined the faculty in 2007. She spends many extra hours tutoring and holding review sessions and is actively involved in church and community service.
Kraut, originally from Germany, previously taught mathematics at the University of New Hampshire — where she received the Outstanding Teaching Award. She also has received the Distinguished Service Award from the Texas Section of the Mathematical Association of America for the creation and direction of the Texas NExT project, a regional program to help new and recent graduates with doctorates improve the teaching and understanding of undergraduate mathematics.
"In and out of class, whether on campus or at a dinner or activity organized in her home, this leader-servant tries to incorporate lessons that connect to life, service, and what it means to be charitable," said Provost Sowell. "Dr. Kraut wants students to succeed and is willing to go the extra mile to ensure that they have the opportunity to do so. Always cheerful, always kind, this professor leads by an example of service that is inspiring."