Archived
Wrestler Peter Rose Wins Third Consecutive National Championship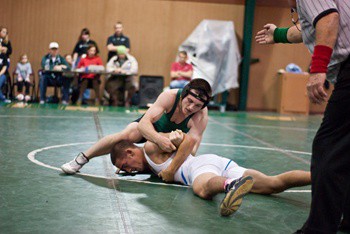 On March 12, Southern Virginia University senior Peter Rose, from Heber City, Utah, wrestled his last college match to win his third consecutive National Collegiate Wrestling Association national championship and finished the season with a record of 27 to 1.
Rose started the tournament with a 15 to 4 victory over his opponent Chad Stenson from Winona State. Next, Rose dominated against Sam Wilcom from the University of Massachusetts with a win of 19 to 6.
For the next three matches, including the championship match, Rose wrestled neck-and-neck with his competitors. He advanced to the semi-finals with his win of 8 to 6 against Jarret Hoeppner from Air Force Academy Prep. In the semi-finals, Rose faced Matt Perry from Apprentice School and won 3 to 2.
In the final match, he escaped a takedown in the waning seconds to beat Andrew Ritchie of Northampton Community College — a Pennsylvania school that serves more than 35,000 students per year — with a score of 7 to 6. Rose also wrestled against Ritchie in the NCWA championship match last year.
"This was a bittersweet moment for me," Rose said. "It's the close of a chapter that has been a part of my life for twenty years, but I am grateful to end with a bang and am ready to move on to greater things."
In January Rose wrestled in the first-ever American Airlines All-Star Challenge, held in Grand Prairie, Texas, where only national champions or this season's top-ranked wrestlers from the NCWA and the National Association of Intercollegiate Athletics (NAIA) competed. With a score of 7–3 in his 157- pound division, he was the only NCWA wrestler to win his match.
Just one week later at the 2010 Apprentice Builders Invitational, Rose finished as a four-time champion and was voted the outstanding wrestler for the tournament.
Last season, Rose was named to the Virginia Sports Information Directors All-State Wrestling Team for the second consecutive year. The majority of award recipients were from Virginia's large NCAA Division I schools.
Rose grew up in Heber City, Utah, which has a rich wrestling history. Cael Sanderson, who won the gold medal for freestyle middleweight wrestling at the 2004 Olympics, graduated from Heber City's Wasatch High a few years before Rose did.
During his sophomore and senior years of high school, Rose took state for his weight class. He became a high school All-American in the 2004 National High School Coaches Association's National Open Wrestling Championship located at Virginia Beach, Va.
But Rose had faced years of discouragement and failure before the championships came.
"There were times in elementary and middle school where I would go a whole season without winning a match," Rose said. "It was a little bit discouraging, but wrestling was something I liked to do, and so I just kept wrestling until things started to click."
Immediately after high school, Rose left the mat to serve in the Samoa Apia Mission for The Church of Jesus Christ of Latter-day Saints. He returned two years later ready for the sport. He said he wrestled enough companions on his mission to keep him in shape.
"Serving a mission never really was a question," Rose said. "Wrestling was always just an option, but going on a mission was a requirement in my book. In some people's mind, giving up two years of wrestling might have been a sacrifice, but for me it wasn't."
In 2006 Rose came to Southern Virginia as a 21-year-old freshman. He turned down other offers to wrestle after his father suggested Southern Virginia. It felt like the right school for Rose, who wanted a place where he could focus on school and prepare for the future.
"I came back from my mission a better wrestler than before," Rose said. "Part of the reason was the maturity. Just being able to think more logically and clearly, which I learned on my mission, really helped me prepare for college and wrestling."
He met his wife, Randi, a member of the cross-country team, in the fall of 2007 after he had joined the team to train for the upcoming wrestling season, and the couple was married in December 2008. Wrestling with a small university has allowed him to spend time with his wife, do well in his challenging classes and still work part time.
Southern Virginia's head wrestling coach, Nate Casperson, has worked with Rose for three years now and characterizes Rose as someone who is respected by competitors and coaches alike. "Peter is a true teammate," Casperson said. "Like any champion, his teammates now and in the past have helped mold him into the man he is today."
Casperson has found in Rose "an excellent teacher, friend and competitor," a solid athlete who "gives 110-percent" in practice and competitions. That hard work has paid off; of his 112 college matches, Rose has lost only seven.
Rose makes short work of his opponents. Christian Vial, who photographs Southern Virginia athletic events did not have many good photos of Rose handy because he said Rose's matches were so quick it was hard to get a good shot.
Rose and his wife will both graduate in May — she in history, and he in business management and leadership. Rose wants to continue his education in theological studies, social work or psychology. Any of these will help him when he applies to the United States Military Chaplain Candidacy Program.
Casperson said he would remember how much Rose was respected, not just as an athlete but also as an individual. He mentioned parents, coaches and referees approaching Rose, commenting how much they would miss watching him wrestle.
"Working with Peter has been monumental," Coach Casperson said. "I now know what an athlete needs to do to become a champion on and off the mat. He is a great friend, and I will miss his attitude and determination."