Archived
Volunteer Faculty, Staff Bless Lives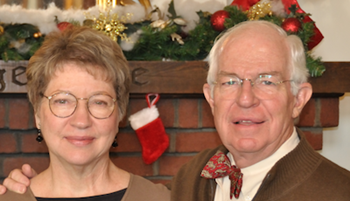 In fall 2010, Southern Virginia University welcomed more than eight new volunteers and extended gratitude to one returning volunteer couple for their outstanding service.
During the last devotional of the semester, Glade and Judith Hunsaker, who volunteered for a year in 2007–08 and returned to volunteer at Southern Virginia in the 2010 fall semester, were awarded the 2010 Ed and Chieko Okazaki Distinguished Service Award. The award annually honors representatives of the faculty, staff and student body who have demonstrated exemplary leadership and service.
This semester, Glade Hunsaker, a professor of English with a Ph.D. from the University of Illinois, taught a Milton class and a course on the classics of western literature, which included works by Dante, Milton, Shakespeare and Homer.
Judith served in the division of fine arts. Among other things, she has been a valuable accompanist for recitals, music classes and devotionals.
The Hunsakers returned because parts of their hearts are at Southern Virginia and as Glade, quoting Milton, said, "Our voluntary service God requires."
"The volunteers' passion for their professions or related activities and the services they render rubs off on others, particularly students," said Bob Huch, the chief financial officer at Southern Virginia who also works with the volunteers. "It may provide students with new insights into areas they had not previously considered relative to their personal and professional interests."
Huch estimates that since 1996, more than 75 people have volunteered at Southern Virginia in one form or another. Most volunteers have retired from their professions, ranging from professors and musicians to doctors and chemists.
The university receives requests each year from people inquiring to know more about volunteer opportunities at Southern Virginia. Huch strives to see which volunteers will best benefit the students. Some volunteers are couples who come to help for a year after retirement but do not want to stop being of service.
One couple, Wilford and Nadine Teerlink, have been volunteering at the university since 1996. Wilford was on the university's board of trustees from 1996–98 until he began teaching a chemistry class as a volunteer. Prior to teaching, he spent more than 35 years as a chemist at E.I. DuPont & Company. When he started teaching at Southern Virginia, Nadine decided to come with him every Friday to help individuals interested in learning basic sewing skills.
Even though Wilford no longer teaches, the Teerlinks, who live in Waynesboro, Va., commute together the 50-minute drive every Friday to serve the university. He helps properly dispose of hazardous chemicals from the lab while she continues to help students and community members learn how to sew and mend.
Another couple, Clayne and Vivien Robison, began volunteering at Southern Virginia this semester. They both retired from Brigham Young University in 2006 after teaching for more than 35 years. After retiring, they served a mission in Vienna for a year. They also spent one year volunteering at another university before coming to Southern Virginia. They came this year to help with the music program.
"We felt like retirement was a great time to serve — either on a mission or volunteering in some capacity," Vivien said. "We loved our mission, but are also enjoying our volunteer work at Southern Virginia. We are able to help students better develop their talents in our areas of expertise."
Clayne teaches music classes while Vivien manages the university front desk every day to answer phones and welcome visitors to campus.
The couple has enjoyed spending time interacting with students, faculty, staff and the other volunteers. Most Tuesday nights, some of the volunteer couples meet together and either play games or watch a movie.
"Our volunteers this year have been so valuable and have given us amazing service," said La Rae Carter, music program coordinator at Southern Virginia. "I cannot express how much these talented and experienced individuals have blessed and enriched the lives of our music students in just one semester."