Archived
Student Nears End of 1000-mile Walk for Haitian Amputees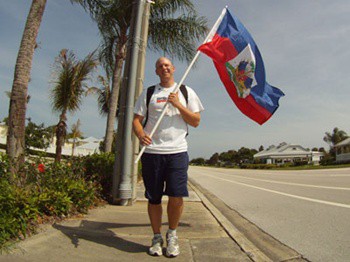 Southern Virginia University junior, Zach Collett, from San Diego, Cali., is scheduled to finish his 1000-mile walk for Haitian amputees on Saturday, May 15, when he crosses the finish line at Bay Front Park in Miami, Fla.
Collett, who plays soccer for the university, decided to walk for Haitian amputees after he was complaining about his tired legs after a practice this spring. Moments later, he turned on the television to see footage of amputees in Haiti and was overwhelmed to the point of tears.
"I started this whole program in order to make sure the more than 5,000 amputees in Haiti, 80 percent of whom are either orphans or under 18 years-old, are not forgotten and lost in the massive transition happening in the aftermath of the quake," Collett said.
Collett decided to donate what he raises to Physicians for Peace, a charity organization that trains local physicians in developing countries. Collett's goal is to raise $150,000 to fully equip the prosthetic and rehabilitation centers currently being rebuilt in Haiti. On his website, lengthenyourstride.org, Collette encourages well wishers to make a tax-deductable donation, even if it is only a penny or two per mile.
At a press conference held on the front steps of historic Main Hall at Southern Virginia on April 8, the university's president, Rodney K. Smith, pledged to walk the last thirty miles with Collett. At the press conference Buena Vista Mayor Mike Clements declared April 12 "Haiti Day" for the city in support of Collett.
Collett started his journey on Monday, April 12, after a press conference held in the shadow of the U.S. Capitol Building in Washington, D.C., and has been walking or cycling six days a week, resting and attending church on Sundays. Since he first began, Collett has walked and biked more than 850 miles.
Adidas, Southern Virginia University, the City of Buena Vista, Helping Hands for Haiti and Scott Sabolich Prosthetics & Research have sponsored Collett for his walk. Collett and his wife also sold their second car and used their tax return money to help pay for hotels, food, clothing and gas for their vehicle, which his wife is using as a pace car.
When Collett finishes his walk at Bay Front Park, he will then take part in the 12th Annual Haitian Compas Festival, which is being held there that day. The festival includes Haitian artists such as Wyclef and is the largest Haitian gathering in the United States.
"Doing this has made me feel alive again!" Collett wrote in an email this week. "I must have been asleep at the wheel for the last six years, because if I had fully grasped the joy that comes from serving others, I would have done so much more already."