Archived
Student Center to be Named for Elder J. Golden Kimball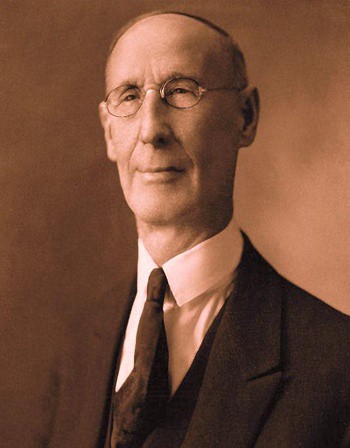 Southern Virginia University today announced that when its recently remodeled student center is dedicated Oct. 9, 2010, during homecoming weekend, it will be named the Kimball Student Center, in honor of J. Golden Kimball, a beloved general authority of The Church of Jesus Christ of Latter-day Saints.
The decision to name the student center after Elder Kimball comes at the request of the donor who contributed nearly $1 million to the yearlong renovation project carried out in 2008–2009.
"Many people remember Elder Kimball for his quick wit and legendary story-telling," said Southern Virginia University President Rodney K. Smith. "Fewer people are aware of his significant contributions both to the Church generally and to the community in which this university resides, for which we honor him."
A native of Salt Lake City and son of LDS Apostle Heber C. Kimball and Christeene Golden Kimball, J. Golden served as a missionary in the southern United States in 1883, spending part of his service in the area that includes present day Buena Vista, Va. Despite facing many hardships, serving at a time when anti-Mormon sentiment was strong in the South and when the missionaries were often subject to persecution and even violence, he served faithfully until he was honorably released in the spring of 1885.
"I went on one trip [in Virginia] with a young elder . . . six hundred miles, without purse and without scrip and without friends," Elder Kimball said during a 1927 General Conference address. "No man had ever heard the voice of a Mormon elder where we traveled. We left a trail behind us, a trail that other elders have traveled."
Kimball laid the groundwork for the Church in this area of Virginia, teaching and baptizing the first Latter-day Saints in a once hostile region — a region that now is home to an entire stake, including twelve wards and two branches, as well a university that embraces Latter-day Saint values.
Due to his distinguished reputation as a missionary, Kimball was called to return to the Southern States Mission in 1892, this time as mission president. During his 3-year service, he accepted the calling to be a General Authority of the Church as a member of the First Council of Seventy, a position he held for 46 years until he died in 1938 at age 85. Throughout his life he gave hundreds of sermons around the country.
"He dedicated his whole life to the Church, and he loved it deeply," said Kimball's granddaughter Susan Kimball, who hopes to attend the dedication ceremony in October. "It's an honor to the [Kimball] family that the university is recognizing him; I think it's beautiful."
The remodeled student center to be named after Kimball is at the heart of campus life at Southern Virginia. It includes a new café (Jonzzey's), expanded game room and an improved dance studio, complimented by more office and lounge space, a new roof and windows, upgraded heating and air conditioning and an elevator. The university bookstore was also moved to the student center.
"We are deeply grateful to the generous donor who made this all possible," said President Smith. "We are pleased to honor Elder Kimball with such a wonderful improvement to our university."