Archived
Southern Virginia University Holiday Events 2010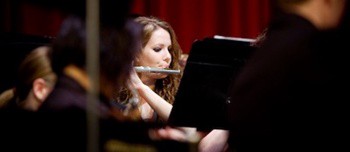 Come feel the spirit of Christmas on campus with music, dance, holiday treats and Santa.
Southern Virginia Division of Fine Arts has joined with the Southern Virginia Women's Society and the Shenandoah Academy of Dance to fill the season with festivities all can enjoy. The public is invited to celebrate with the university community as they ring in this joyous time of year. Unless otherwise indicated, all events are free.
Southern Virginia University Community Christmas Open House
Warm up after the Buena Vista Christmas parade with hot cocoa, cookies and holiday entertainment. Bring your children to visit with Santa.
Thursday, December 2, following the 7:00 p.m. Buena Vista Christmas parade, Ballroom
Southern Virginia University Orchestra Concert
Listen and enjoy the orchestra concert that will include Christmas and other festive music. Peter Olson, an orchestra intern, will conduct a largo from the "New World Symphony" by Dvorak.
Friday, December 3, 7:30 p.m., Performing Arts Center
Shenandoah Academy of Dance to perform "The Nutcracker"
See the talent of The Shenandoah Academy of Dance Ensemble as it presents "The Nutcracker," a full-length rendition of the classic holiday story with exciting choreography set by Missy Floyd to Tchaikovsky's timeless, breathtaking score.
Saturday, December 4, 7:00 p.m., Performing Arts Center
Tickets, Adults: $10 in advance, $12 at the door; Students: $5 in advance, $6 at the door; Family: $25 total
Fading Point
Have fun listening to The Fading Point's holiday a cappella JAM! Southern Virginia's premier co-ed a cappella group, The Fading Point, is excited to present their fall semester concert. The show will feature a mix of "Top 40" hits such as "Breakeven" and "No Air" and Christmas favorites such as "White Christmas." To purchase tickets, call 540–261–8405.
Tuesday, December 7, 7:00 p.m., Performing Arts Center
Tickets, SVU faculty, staff and students: $3; Seniors: $4; General Admission: $5; Family: $15 total
Southern Virginia Christmas Choral Concert
Experience the Christmas spirit by attending the Christmas Chorale Concert. Music selection will range from early renaissance to modern jazz including Christmas lullabies, shepherd's carols and Mack Wilberg's arrangement of "I Saw Three Ships." Concert Chorale, SVU Flute Choir, Bella Voce and the Wind Ensemble will perform.
Friday, December 10, 7:30 p.m., Performing Arts Center