Archived
Southern Virginia Theatre Season Opens with Unique Musical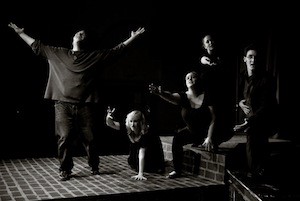 Beginning September 3rd the Southern Virginia Theatre Department will present the gripping off-Broadway musical hit, "Songs for a New World" by composer/lyricist Jason Robert Brown.
"This is a contemporary musical in every sense," says Robert Stoddard, the play's director. "Instead of a linear story-line, Jason Robert Brown has created individual stories in each of the songs. The result is a sort of 'concept' musical, with a score that includes some of the most exciting, arresting music to come out of Broadway in years, and a point of view that has made it immensely popular with regional and university theatre groups."
Brown himself has written that the common thread among these songs is that they all find their protagonists at a particular moment in their lives where they have to take a stand or make a choice. "It's about one moment. It's about hitting the wall and having to make a choice, or take a stand, or turn around and go back," he said.
Thus, Brown transports his audience from the deck of a 1492 Spanish sailing ship to a ledge 57 stories above Fifth Avenue to meet a startling array of characters, ranging from a young man who believes that basketball is his ticket out of the ghetto, to a mother who sews flags while her son is at war, to a prisoner who may or may not deserve to be incarcerated.
Rehearsals for the show have also been unusual, according to Stoddard, consisting of explorations of the score through a series of intense movement and improvisational exercises which are then transformed into pieces of the show itself.
Stoddard says that the small cast of five upper-division students is extraordinary. "This production will largely be a product of the cast's remarkable contribution and staggering talent. You won't want to miss this show."
The set is being designed by senior theatre major Darla Guymon. Music direction is by La Rae Carter and the lighting design by David Dwyer. Both are professors at Southern Virginia University.
"Songs for a New World" will run September 3–4 and 9–11. Performance time is 7:30 p.m. in Southern Virginia's Performing Arts Center. Tickets for the show are $7.00, with advanced tickets available for purchase by calling 261–8405.