Archived
Southern Virginia Orchestra Will Portray Images of Life and Death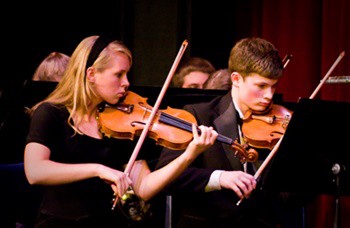 Music has the capacity to portray emotions very powerfully. On Thursday, March 4, director Mark Taylor will lead the Southern Virginia University Orchestra in music so powerful that he calls the program "Images of Life and Death." The concert will begin at 7:30 p.m. in Chandler Hall on the Southern Virginia University campus.
The orchestra will present the first movement of Beethoven's Symphony №1 and several selections from Bizet's "Carmen" Suite №1, which both affirm the vitality and joy of living. On the other hand, the slow movement of Joaquín Rodrigo's poignant guitar concerto "Concierto de Aranjuez" depicts his wife losing a child, her struggle to hold on to her own life, and the composer's gamut of emotions towards God.
Well-known Lexington guitarist Loren Pomeroy will lend his talents as guest soloist in the concierto. The concert is free and open to the public.