Archived
Southern Virginia Grad Documents Research at Smithsonian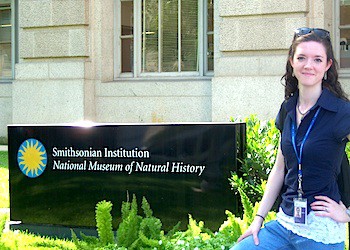 In 2007, seven million visitors explored the exhibits at the Smithsonian National Museum of Natural History, making it the most visited of the 19 Smithsonian museums.
Megan Ondricek, a 2009 Southern Virginia University graduate who majored in liberal arts and minored in art, has spent the summer as a Smithsonian intern in the botany department, which comprises the U.S. National Herbarium.
"The Herbarium is a special place because instead of just having the information, photos, numbers and history of individual plant species, it holds the plant specimens themselves, some from hundreds of years ago," Ondricek said. "It provides an essential reference in a world that is constantly changing. It's a kind of record of life on Earth."
Ondricek originally applied for another internship at the National Museum of Natural History. However Rusty Russell, who is a collections manager for the botany department, asked if she would be interested in another internship — the San Jacinto Mountains project. Russell told her the project would require someone who had personal motivation, focus and initiative because he or she would be working mostly alone.
"Attending Southern Virginia helped prepare me for this internship in many ways," Ondricek said. "Accountability is everything. You have to be able to stay on task, think and work independently and take a degree of pride in your work, even if it's menial or tedious. It also helped prepare me for the scholarly atmosphere here and for the way in which information and data is carefully collected, organized, studied and interpreted for the good use of mankind."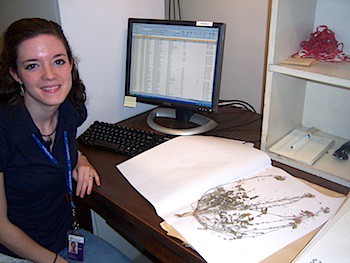 The San Jacinto Mountains project's main purpose is to collect and study plant specimens taken from the San Jacinto region in southern California since the 1800s and then document changes over time. This will help develop better land use strategies in the region, which is only 100 miles from downtown Los Angeles.
Ondricek is the only intern working on the project, managing and organizing the vast database of information. Her tasks include searching online for images of plant specimens, creating a main database of records, making lists from the database that target specific factors and organizing stacks of newly collected plant specimens. So far, more than 20,000 specimens have been collected and documented.
As an intern, Ondricek has had access to staff museum areas, exclusive tours behind the scenes of the museum, free IMAX shows and other staff privileges.
"What do I enjoy the most?" Ondricek said. "I get to come to work every day in the Natural History Museum! I get to rub shoulders with some of the top researchers and collection specialists in their fields. I get to see parts of the Natural History Museum that the public rarely has the chance to appreciate. And I get to be a part of the Smithsonian Institution and its mission. I can't think of a better way to spend my summer!"