Archived
Service Forum Friday Oct. 22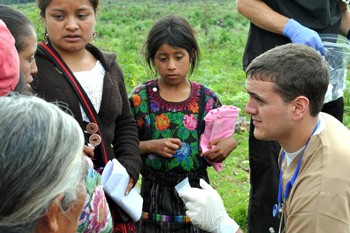 Southern Virginia University students and Michael Gibbons, the student support director, will speak about the service they have participated in through the university at a forum entitled "In the Service of Your Fellow Beings," on Friday, Oct. 22, at 11 a.m. in the Stoddard Center.
They will discuss being leader-servants in the community and abroad. One student will discuss helping with the local Remote Area Medical trip that took place at the university in March 2010 while another will talk about service offered locally in the community. Two students, one who went to Guatemala in June 2010 to offer medical help and another who went to the Dominican Republic, will discuss their service experiences abroad.
Gibbons, who has traveled to Sri Lanka, Ecuador, the Dominican Republic and Guatemala to serve, will offer an overview of service and will also share a slide show of one of his service trips abroad.
Community members and Southern Virginia faculty, staff and students are invited to hear forum and devotional speakers each Friday morning at 11 a.m. in the Stoddard Center. Recordings of past forum and devotional speeches may be accessed online.