Archived
Marriotts Host Seventh Annual Shenandoah Invitational Art Show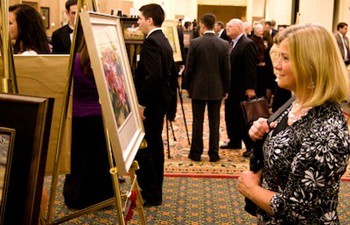 Richard and Nancy Marriott will host Southern Virginia University's seventh annual Shenandoah Invitational Art Show at the Fairview Park Marriott Hotel in Falls Church, Va., on Thursday, Nov. 4, at 6:30 p.m.
The Shenandoah Invitational is an art show and sale featuring paintings and sculptures of professional artists from around the world. Each year the university selects artists to offer recent works for sale to help raise funds for fine arts scholarships and programs.
The art show will begin at 6:30 p.m. with a half-hour artwork preview, after which dinner will be served. Following dinner, guests will enjoy entertainment by some of Southern Virginia's performing arts groups including the Southern Virginia Concert Chorale, The Fading Point and theatre students. Afterwards, attendees will have the opportunity to purchase artwork.
Artists whose works will be featured and available for purchase include Rose Datoc Dall, Glen Hopkinson, Del Parson, Walter Rane and A.D. Shaw among others. Two of Southern Virginia University's own professors, Barbara Crawford and Doug Himes, also will have works in the show.
Richard Marriott, chairman of the board for Host Hotels & Resorts, Inc., and his wife, Nancy, are long-time friends and supporters of the university. Southern Virginia's highest academic scholarship is named for the Marriotts. The program promises to be a delightful night celebrating the fine arts.
For more information or to purchase tickets, please contact Allison Page at 540–261–2782 orallison.page@svu.edu. Artists' works including their prices and sizes are available online on the 2010 artists' page.