Archived
Greek Tragedy "Trojan Women" Takes Stage Oct. 29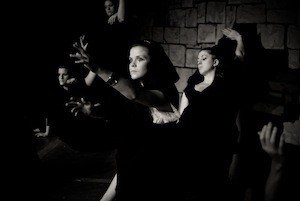 The Southern Virginia University theatre department will draw back its curtains on Friday, October 29, with the production of the classic Greek playwright Euripides' "Trojan Women."
The play is set just following the devastating Trojan War, and the Trojan women are waiting to either be murdered or herded off to a life of slavery and humiliation. "Trojan Women," is a timeless Greek tragedy that tells of the atrocities that survivors face after a war is over.
Since odes in traditional Greek tragedies were originally sung, Josh Harvey, a part-time Washington and Lee University musician, has created a contemporary score to make Euripides' message even timelier than ever.
The cast includes 15 Southern Virginia students, some of whom will make their Southern Virginia debut on the stage during this production. Lesley Nesbit, an adjunct instructor in the theatre and dance department at James Madison University, will play the lead role of Hecuba, the Trojan queen.
Production of the play has been a collaborative, community effort. Chanel Smith, currently a ballet instructor for Halestone Dance Studio in Lexington, is providing the choreography for the play. Graham Spice, audio engineer of W&L's Wilson Hall, has done the sound design and score realization.
Robert Smith, a Southern Virginia adjunct instructor of theatre, directs. Smith has been working on the show for more than a year and scenes from the play were performed last year during a workshop at W&L.
Performances are scheduled for October 29–30 and November 5–6 at 7:30 p.m at Southern Virginia University in Chandler Hall. General Admission is $6. Admission for Southern Virginia faculty, staff and students is $4. Tickets will be available at the door prior to each night's performance and through the Southern Virginia student financial services at 540–261–8405. Tickets can also be purchased at Books & Co., located in Lexington, Va.